Analysis: Brazil brings farming muscle to corn and cotton
SAO PAULO | Tue Jun 21, 2011 - After transforming global agriculture by quintupling their soybean production since 1980, Brazilian farmers are now on the brink of crop breakthroughs in cotton and corn, long dominated by growers in America.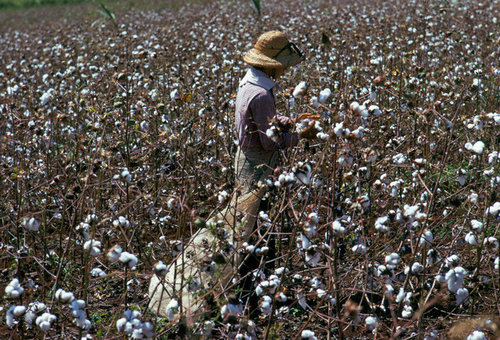 Cotton picker in the state of Sao Paolo - Photo: Corbis
Helped by high futures prices and a sustained local agricultural boom, cotton and corn acreage is spreading fast despite being twice as capital intensive as soybean crops.
The number of ship berths dedicated to these two crops at Brazil's congested ports is growing, statistics show. And while soy will continue to reign on Brazil's vast savanna, analysts say that even a modest shift toward corn and cotton could make a difference in global markets due to Brazil's sheer size.
This nascent surge isn't without challenges. Although farmers flush with cash are sinking money into sowing new acreage, investments outside the farm gates have not kept pace with the country's agricultural expansion.
Record long lines of vessels waiting to load sugar and grains regularly clog southern ports. The lack of investment in local fertilizer output forces Brazil to import 80 percent of its annual needs, pitting local farmers against other big importers such as China for the vital crop inputs.
Local fertilizer sales are on course for a record year, but another surge in prices for crop nutrients like in 2008 could clip farmers' potential for boosting yields and output from Brazil's nutrient-poor soils.
These problems will take decades to correct.
For the moment, however, the stars seem aligned for an expansion that could over the medium term help smooth out global prices for corn and cotton between North American harvests and squeeze market share for agricultural rivals in the Southern Hemisphere, namely Argentina and Australia.
"At these prices, Brazilian corn and cotton are better earners than soy, ... which also means expansion isn't over," said Michael Cordonnier, head of Soybean and Corn Advisor in Hinsdale, Illinois and a South American grains specialist.
Brazil's cotton expansion is still nascent compared to the weight it has put on in the corn sector over the past decades to feed its massive animal protein industries. Brazil is now growing surpluses of the coarse grain. Only five years ago, Brazil was an on-again off-again importer of corn.
The short-term impact is significant: Brazil's cotton exports will double to a record 900,000 metric tones this harvest, vaulting the country from relative obscurity less than five years ago into the world's fourth largest exporter.
Corn shipments could even ease slightly from last year's record high of 11.6 million metric tones, but still secure Brazil as the world's No. 3 exporter of the grain after the United States and Argentina, according to government projections.
Over the next decade, the prospects look even brighter. Brazil's farm sector, with its ample land and decades of performing below its true potential, could confirm a seemingly unrivaled ability to expand compared to other countries.
The government expects cotton and corn production to soar 48 percent and 24 percent, respectively, according to a new 10-year forecast released last week. That growth would be enough to make Brazil the No.3 cotton exporter after United States and India and bring it within striking distance to overtake Argentina in corn.
SWING SUPPLIER
The expansion is being driven in part by high prices due to strong demand in Europe and Asia. Corn futures prices are 13 percent shy of record territory, and cotton futures, although 35 percent off March highs, are still double a little more than a year ago.
"Prices are fueling agricultural expansion and Brazil is right at the top of that list," Barclays Capital's global grains specialist Sudakshina Unnikrishnan said. "China is right on the edge of becoming net corn importer -- it's inevitable in the medium-term. That favors Brazil."
Yet local factors in Brazil are also crucial — and should help ensure that the expansion into cotton and corn continues, even when international prices inevitably slacken.
Due to nutrient-poor soils, large commercial Brazilian farmers, hoping to capture the high international prices of corn, will boost output from their fields by fertilizing more heavily with urea to reach similar yield levels of Iowa farms in the United States. But this runs costs up to twice that of a soy field.
Average Brazilian corn yields are just over 4 metric tones a hectare, though with enough fertilizer they can approximate the state-of-the-art U.S. yields of over 7 metric tones/hectare.
Strong local demand from Brazil's rising middle class, spreading federal farm credit and crop insurance, and government subsidies to off-set the high cost of transport infrastructure are helping induce farmers to invest in capital intensive crops like corn and cotton in the hopes of bigger pay-offs than soy has traditionally provided.
Although corn and cotton may take a growing share of total grain crop area in Brazil, soy will probably not lose acreage to the upstarts because the grain belt is set to expand due to the high prices of all three crops.
Plus local farmers won't snub soybean futures, which at $13.50 a bushel are only 8 percent below three-year highs hit in February. Soy has a deep local market, lower input costs and strong profit margins.
"Soy is cash in Brazil," said Kory Melby, an independent grains analyst based in the center-west grain state of Goias.
Farmers can sell soy anywhere, any time. Brazilian doctors, lawyers and merchants with no background in farming or commodities trading, regularly buy physical soybeans as an investment through a local paper market at grain cooperatives.
Corn and cotton do not enjoy such appeal in Brazil yet.
"The expansion into new frontier areas and the turning of pasture into fields will be enough to lift all boats," said Juliano Cunha, a grains specialist at analysts Celeres.
Indeed, although Brazil's tropical grain belt could overtake U.S. soy output in the next decade, it is not on course to match the stunning exports of the top producers of corn and cotton such as the United States and India.
Cotton area in Brazil is still relatively small. Although acreage grew 66 percent from last season, total area is still just 1.4 million hectares -- minuscule compared with the 24.2-million-hectare soy belt.
Most of this current crop expansion was put in motion before the big rise in global prices, however, so the full effect of high prices on area has not been fully unveiled. Cordonnier estimates that tight ginning and harvester capacity for cotton would contain expansion to 15 percent.
"Brazil is not going to hurt American farmers of these crops," said Cordonnier. "The United States is the 800-pound gorilla here."
(Editing by Alden Bentley and Brian Winter)
© Thomson Reuters 2023 All rights reserved.