Auction for bankrupt Filene's heats up
By Phil Wahba
NEW YORK, June 12 (Reuters) - The auction for Filene's Basement was adjourned until Monday 15 June, the restructuring expert advising Filene's said on Friday 12 June, as rival bidders upped the ante over who will ultimately own the Boston-based discount department store.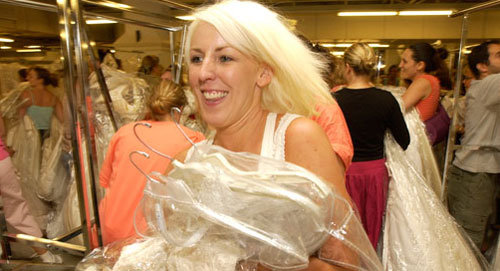 Filene's Basement, the "Running of the Brides"
Syms Corp (SYMS.O) and Vornado Realty Trust (VNO.N) had raised their joint bid to $61.3 million from $60 million, said Terry Corrigan of Abacus Advisors, which is overseeing the Boston retailer's restructuring.
A rival bid by Men's Wearhouse Inc (MW.N) and Crown Acquisitions, a New York retail real estate investment firm, had reached $63.3 million, he said.
The bids cover different Filene's stores, Corrigan said, explaining the difference in offers.
Corrigan said he expected the auction to finish on Friday 12 June.
An affiliate of Men's Wearhouse, K&G Acquisition, had submitted the winning bid at an earlier bankruptcy auction to buy Filene's trade name, 17 store leases and its retail inventory for $67 million.
But on Wednesday 10 June, the judge overseeing the case, Mary Walrath, ordered the auction reopened after complaints from rival bidders about the auction process.
Walrath has scheduled a hearing for the sale for Monday 15 June.
Crown had objected to the sale in court documents filed on Tuesday 9 June, saying the original auction, held on June 5, was not run in accordance with bid procedures, was submitted after a bid deadline, and was a "travesty."
Filene's Basement filed for Chapter 11 bankruptcy protection on May 4.
The case is In re: Filene's Basement Inc, U.S. Bankruptcy Court, District of Delaware, No. 09-11525.
(Reporting by Emily Chasan, Phil Wahba and Chelsea Emery, editing by Dave Zimmerman, Ted Kerr and Richard Chang)
© Thomson Reuters 2022 All rights reserved.