Bonobos caught with pants down on top shopping day
When Bonobos customers logged on to the men's apparel retailer's website late on Cyber Monday, all they saw was a photo of feet with a pair of pants drooped around them.
Shoppers were told the site was down and were directed to click on a link to sign up for an alert on when it would be back up.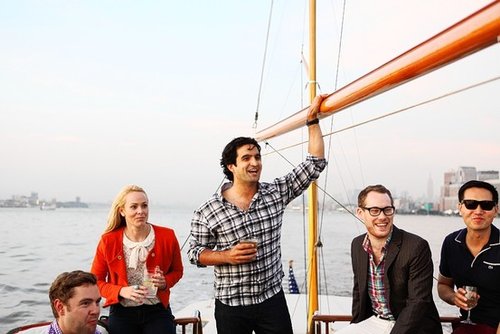 Photo: Bonobos
That would not happen for about three days as the fast-growing e-commerce start-up struggled to salvage sales from the busiest online shopping day on record.
"We fell short of the high standard that we set for ourselves in terms of service delivered to customers," said Sameer Gandhi of Accel Partners, a venture capital firm that is one of the main investors in Bonobos. "We failed in the trust they put in us, and we take that very seriously."
This is the latest example of the retail industry's struggles to handle technological demands created by an explosion in online shopping.
Only six of the largest 25 U.S. retailers got top marks for online customer service, including website performance, between this year's Nov. 25 Black Friday and the following Cyber Monday, according to STELLAService, an independent provider of customer service ratings online.
"The rest are underperforming in at least one area of the online customer experience," said Jordy Leiser, chief executive officer of STELLAService.
Target Corp's (TGT.N) website crashed twice in recent months, while some Wal-Mart Stores Inc (WMT.N) shoppers had trouble checking out online when the company's site went down briefly after midnight on Black Friday.
Unlike those giant retailers, which have thousands of physical stores, Bonobos only sells online, so it is crucial for its website to run smoothly.
Bonobos has grown quickly since its inception in 2007, and the company knew it had to upgrade its technology to keep up. Unique monthly visitors to its website have almost doubled in the past year, according to comScore Inc (SCOR.O).
Bonobos hired Michael Hart, a former Netflix (NFLX.O) engineering director, as chief technology officer in November.
"He immediately identified that we had a lot of work to do," said Chief Executive Officer Andy Dunn.
CLOUD SWITCH
Bonobos used dedicated computer servers from Rackspace Hosting (RAX.N) to handle website traffic and process orders. It decided to switch to a Rackspace system of cloud-based servers, which could handle spikes in online activity more efficiently, Dunn said.
Bonobos was close to finishing the transition, but on the weekend after Thanksgiving, the company hit problems and had to shut its website down briefly. When the site came back up, customers struggled to check out, creating a backlog of orders.
By the evening of Cyber Monday, the order backlog was so big that Bonobos shut the website down again. This time, the company told shoppers the site would be down for some time and advised them to come back later.
SIX TIMES
Bonobos was offering 60 percent off on Cyber Monday and expected the day to be its busiest of the year. However, online traffic to the company's website was six times higher that day than a year earlier, according to Accel's Gandhi.
That was a lot more than expected and overwhelmed the technology, just as the company was switching to a new server system.
"When companies grow so fast, it takes time for their infrastructure to catch up," Gandhi said.
Bonobos did not get the website fully back up until Friday, Dec. 2, when it ran its 60 percent off Cyber Monday sale again. About a week later, it started running other holiday promotions that were supposed to be offered earlier in the season.
"We thought we had left a lot of business on the floor and wouldn't be able to pick it up," Dunn said. However, he added that most customers have been patient, and many returned once the website was back up.
He declined to disclose sales numbers. The company lowered its expectations when the website went down on Cyber Monday, but it is now ahead of those more-conservative forecasts, Dunn said.
SILICON VALLEY OFFICE
Most e-commerce companies do not update computer infrastructure during the crucial fourth quarter, according to Accel's Gandhi. But he said Bonobos had little choice because Hart could not join the company from Netflix any earlier.
The company may have been worse off if it hadn't gone ahead with the upgrade, Dunn said.
To avoid similar trouble in the future, New York-based Bonobos is opening an office in Palo Alto, California, in the heart of Silicon Valley, that Hart will run.
Dunn plans to spend up to half his time at the new location, and the company hopes to hire talented engineers and developers from the area.
"Our core objective is to build a fantastic engineering team," Dunn said, "and, if not get ahead of our growth, get side by side with it."
(Reporting by Alistair Barr in San Francisco; Editing by Lisa Von Ahn)
© Thomson Reuters 2023 All rights reserved.