Brazil on way to driving luxury growth, execs say
May 26 - Once a country associated with the slums known as favelas, Brazil is on its way to becoming a new engine of growth for the luxury industry, executives at the Reuters Luxury and Fashion Summit said this week.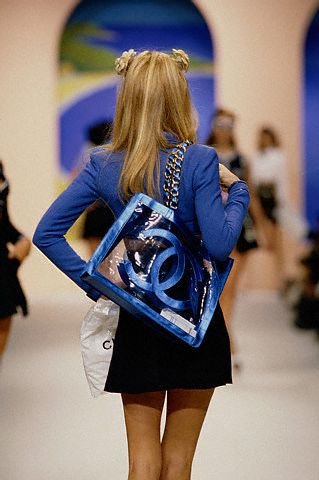 The Dutch model Karen Mulder on the catwalk at the show of Chanel's spring-summer ready-to-wear collection (Photo: Corbis)
Luxury sales in the football-loving country are tiny compared with other emerging markets such as China, Russia or the Middle East, but they are rising much faster than many expected.
Many luxury groups long refrained from building a big business in the country, deterred by Brazil's high import duties, complex bureaucracy and lack of retail space.
But in the course of the past few year years,
Gucci
,
Chanel
, Burberry,
Christian Louboutin
and other big names have opened shops in Brazil, lured by new luxury malls built by groups such as Iguatemi Empresa de Shopping Centers and the rising purchasing power of the country's middle class.
The number of very high net worth individuals in Brazil has also risen exponentially. Billionaires in Brazil in 2010 totaled 30, up 60 percent against 2009, having benefited from higher commodity prices and a stronger currency, according to Forbes.
Diane von Furstenberg
's shop, opened two years ago in the Iguatemi center in Sao Paulo, ranks now No. 2 after her New York flagship store in terms of sales, the designer said this week.
"I did not expect that," Furstenberg told the Reuters Luxury and Fashion Summit in Paris. "Brazilians love life ... Brazil is really an incredible market."
Hermes
says trading is booming at its store in the upscale Cidade Jardim shopping mall in Sao Paulo. It opened two years ago after many unsuccessful attempts to lure partners.
As a sign the country is now on the radar screen of the luxury world, the International Herald Tribune newspaper is hosting its annual luxury conference in Sao Paulo in November.
"Brazil's evolution is impressive," Jean-Marc Jacot, chief executive of luxury watch brand Parmigiani, told the summit in Paris.
"There a big luxury culture there, they are very similar to us, the problem often is distribution," Jacot said, predicting Brazil one day would be one of the brand's top five markets.
But if many brands are taking Brazil more seriously than before, it is also because Brazilians are spending more money on luxury outside their home country than they have in the past.
Brazilians' expenditures in French shops last year rose 56 percent and were up 53 percent in the first three months of 2011, marking the biggest increase of all nationalities,
Global Blue
, a provider of value added tax refund services for tourists, said in a report published this month.
At Paris'
Printemps
department store, a major tourist destination, Brazilians have been spending more than Americans overall since last year, Printemps Chief Executive
Paolo de Cesare
told the summit.
"It is not easy to do business in Latin America because of location and taxation, so wealthy Brazilians buy huge amounts in Miami but also in Europe," de Cesare told the summit.
EXPENSIVE ADVENTURE
But if going to Brazil is an adventure, it is an expensive one reserved mainly to top brands, some executives said this week.
"Only big luxury brands have the means to go to Brazil and absorb part of the taxes, but the market there is becoming so attractive that it is worth it," Florent Perrichon, chief executive of Italian brand
Cerruti
, told the summit.
Perrichon added that local competition was so fierce that only very big luxury brands had a good chance of breaking into the market.
Citing the country's import taxes, which can be so high as to double the price of an item, luxury watch and jewelry retailer
Harry Winston
said it was not planning to enter Brazil in the near term.
"Developing in Brazil is much too early for us," Chief Executive Frederic de Narp told the Reuters Global Luxury and Fashion Summit in New York. "The country is not ready for Winston. Winston is not ready for Brazil."
Guy Salter, deputy chairman of the British luxury body Walpole, said Brazil seemed easier to enter than India but said other emerging markets such as Korea, Taiwan, Indonesia and Thailand were also attractive.
Brazil is only just over 1 percent of the global luxury goods market, but luxury sales are set to grow there by 10 percent to 15 percent between 2010 and 2013, according to consultancy Bain.
Meanwhile, luxury sales generated in greater China, including Hong Kong, Macau and Taiwan, reached 17.6 billion euros, up 23 percent in 2010 against 2009.
By Astrid Wendlandt
(Additional reporting by Phil Wahba, Helen Chernikoff, Dhanya Skariachan in New York, Mark Potter in London, Antonella Ciancio, Victoria Bryan, Pascale Denis, Silke Koltrowitz and Nathalie Olof-Ors in Paris; Editing by Steve Orlofsky)
© Thomson Reuters 2023 All rights reserved.