Creditors reject rescue plan for shoe retailers
LONDON (Reuters) - Stricken shoe retailers Barratt and Priceless Shoes and their 5,450 staff were dealt a blow when creditors rejected a restructuring plan.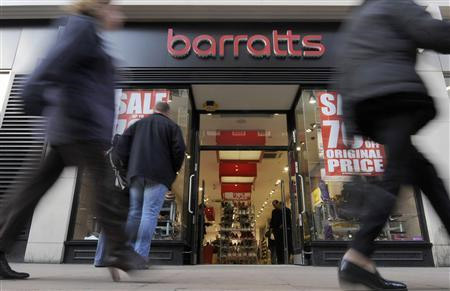 Pedestrians walk past a Barratts shoe shop in central London in this January 26, 2009 Photo : Toby Melville/Reuters
Parent company Stylo, which put both chains into administration last month, said it would also now have to enter administration, a form of protection from creditors.
Stylo had asked creditors and landlords to back a restructuring plan that would have given it more breathing space to turn itself around, while shutting up to around 150 stores.
But landlords were concerned the plan might set a precedent for retailers seeking to exit unprofitable sites.
"The board is disappointed to report that the creditors and landlords did not approve the CVA (Company Voluntary Arrangement) proposals," Stylo said in a statement.
Stylo, which runs around 400 shops, warned on Tuesday that it and many more stores would be closed and jobs lost if the restructuring plan was rejected.
"We will now seek to achieve a sale as a going concern to preserve as many jobs as possible," Deloitte, administrators to the shoe chains and now also Stylo, said in a statement.
"We are in focussed talks with interested parties in an effort to deliver a swift solution."
A string of mostly smaller British retailers have fallen into administration in recent weeks as shoppers have cut spending in a deepening recession.
Many, like sweets-to-DVDs chain Woolworths, have failed to find buyers, leading to store closures and thousands of job losses and an eventual piecemeal sale of property assets.
(Editing by Mike Nesbit; Editing by Jon Loades-Carter)
© Thomson Reuters 2022 All rights reserved.