Deckers' fourth quarter to beat; set for international distribution overhaul
By Shradhha Sharma
BANGALORE, Feb 24 (Reuters) - The unabated popularity of its UGG boots should help Deckers Outdoor Corp (DECK.O) breeze past estimates for the fourth quarter, with the market now looking for a more concrete picture of when the company plans to assume greater control of its international distribution.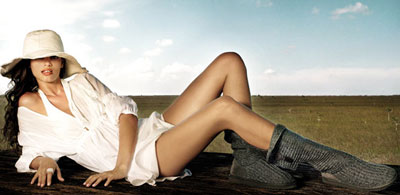 Deckers
"Everyone knows that it will be a blowout quarter, so I think the focus is certainly on the guidance," Susquehanna Financial Group analyst Christopher Svezia said.
Analysts will also be looking out for more details on how Deckers plans to expand the core UGG brand, which now makes up for more than 95 percent of the company's net sales.
"We are looking for another big year in boots," Sterne, Agee & Leach analyst Sam Poser said, adding, "we see continuing acceleration in the UGG business in 2010."
Svezia expects a lot of 2010 growth for UGGs to come from international sales, with domestic growth coming from the wholesale business and from increased distribution at existing accounts.
When the maker of sheepskin boots and slippers reports quarterly results on Thursday 25 February, most analysts are expecting the company to announce that it will take over most of its international distribution by early 2011.
"What they'll do is let (current contracts) expire" before the company takes over its own distribution, Svezia said.
"To acquire them mid-way just isn't cost-effective."
The planned move will afford Deckers greater control over its international operations and amplify revenue and earnings growth at the segment.
Sterne Agee's Poser expects Deckers to announce distribution set ups for the UK, Benelux (Western European neighbors Belgium, the Netherlands, and Luxembourg) and Canada -- which together make up 63 percent of the footwear company's international sales.
"Whatever portion of their international business (that) gets converted to subsidiaries will grow big double-digits and be very accretive to operating margins," he said.
International sales made up nearly 22 percent of Deckers' net sales in the third quarter.
CH(UGG)ING ALONG Deckers' UGG line of sheepskin shoes, boots and slippers, launched in 2003, has helped the company beat market expectations for 15 consecutive quarters, and analysts don't expect anything different this time around.
The company's fourth-quarter revenue beat is expected to stem from all channels of the UGG business -- wholesale, retail and e-commerce, analyst Poser said.
Lazard Capital's Todd Slater said the brand had helped Deckers sail through the recession through constant innovation on the fashion side.
"No other brand controls its distribution as well. No other brand of its type has increased its fashion quotient (or) expanded the brand as successfully as UGGs."
Meanwhile, analyst Svezia expects Goleta, California-based Deckers to achieve its goal of reaching $900 million in UGG sales sooner than the company's own 2012 deadline.
Susquehanna's Svezia pegged UGGs 2010 growth at 6 percent to 7 percent to about $735 million.
Analysts also expect 2010 to be the year of recovery for the company's sports sandal line, Teva, which has seen dwindling sales for the past two years.
Poser sees both Teva and the company's sneakers and slippers brand, Simple, continuing to be viable and forecast 7 percent and 25 percent growth in 2010 for them, respectively.
Analysts expect Deckers, whose rivals include Skechers USA Inc (SKX.N) and Timberland (TBL.N), to report fourth-quarter earnings of $4.28 a share, on revenue of $320.9 million, according to Thomson Reuters I/B/E/S.
SmartEstimates from Thomson Reuters StarMine, which lends more weight to recent estimates from top-ranking analysts, puts the average expectation for earnings at $4.36, or about 1.9 percent above Wall Street's mean forecast. (Reporting by Shradhha Sharma in Bangalore; Editing by Anthony Kurian)
© Thomson Reuters 2023 All rights reserved.