Glaxo to buy Stiefel for up to £2.5 billion
By Ben Hirschler

LONDON (Reuters) - GlaxoSmithKline (GSK.L), the world's second-largest drugmaker, has agreed to buy privately owned U.S. skincare specialist Stiefel Laboratories for up to $3.6 billion (2.5 billion pounds), the two companies said on Monday 20 April.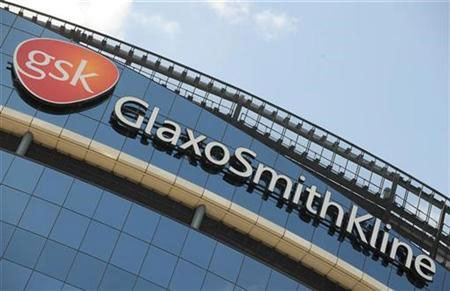 REUTERS/Toby Melville
The acquisition is the latest in a string of deals in the drugs sector, but is significantly smaller than recent mega-mergers, reflecting the group's declared focus on bolt-on buys to diversify its business.
Stiefel, part-owned by buyout firm Blackstone Group (BX.N), is the world's largest independent dermatology company, with a range of prescription and over-the-counter products.
It was put up for sale a month ago and attracted interest from a number of large pharmaceutical companies, including Novartis (NOVN.VX), Sanofi-Aventis (SASY.PA) and
Johnson & Johnson
(JNJ.N), according to people familiar with the matter.
Glaxo is paying $2.9 billion in cash for Stiefel and expects to assume $400 million of net debt. It will also make a potential further $300 million cash payment, depending on future performance.
That overall price is four times Stiefel's 2008 sales of around $900 million, but the group expects to extract substantial savings from merging the business, which will retain the Stiefel identity, into its structure.
Glaxo expects annual pre-tax cost savings of up to $240 million by 2012, with integration costs of some $325 million over the next three years.
Excluding integration costs, the deal will dilute Glaxo's earnings per share by less than 1 percent in 2009 and be 1-2 percent earnings accretive to EPS in 2010.The purchase will nearly treble the size of Glaxo's skincare business, giving it an 8 percent share of the global prescription dermatology market.
"It's an opportunity for Glaxo to strengthen its product mix," said Navid Malik, industry analyst at Matrix Corporate Capital. "This business should be very complementary."
The 160-year-old Stiefel is a maker of anti-itch creams, acne treatments and other skin treatments.
The purchase fits well with the strategy of Glaxo Chief Executive Andrew Witty, who wants to broaden the focus of the group away from its traditional reliance on small-molecule prescription medicines -- or pills.
Stiefel is controlled by the founding Stiefel family and current CEO Charles Stiefel will continue to lead the new business under the Glaxo umbrella after the deal closes in the third quarter of 2009.
Private-equity group Blackstone, which invested $500 million in the company in 2007, owns a substantial minority stake.
Glaxo shares were 0.4 percent higher at 10.42 pounds by 8:35 a.m., slightly outperforming a 0.2 percent gain in the European healthcare sector .SXDP.
(Editing by David Holmes and Jon Loades-Carter)
© Thomson Reuters 2022 All rights reserved.