Gross margins, pricing in focus ahead of H&M Q4
Jan 25 - Hennes & Mauritz' fourth-quarter gross margins are seen down amid rising costs, and all eyes will be on how far the fashion giant will absorb cost inflation in 2011 when it opens its books on Thursday.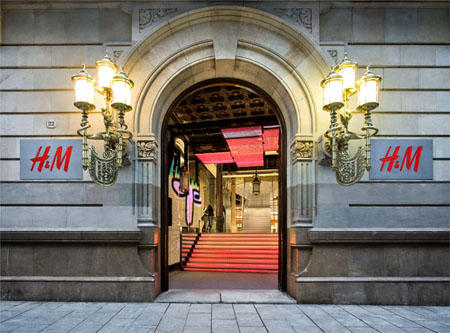 H&M in Barcelona
Retailers around the world worry whether they can pass on higher costs at a time when many consumers are being hit by austerity measures by governments trying to rein in deficits.
A surge in cotton prices due to tight supply is adding to pressure on the global apparel sector and many clothing firms have announced plans to pass on cost inflation to customers.
H&M
, the world's third-biggest fashion firm by sales, is also harder hit than some, such as arch-rival
Inditex
, by rising labour costs in Asia, where it buys more goods.
But H&M, which has over 2,000 stores in 37 countries and which launched price cuts last summer to boost competitiveness, has remained tight-lipped on any changes in pricing strategy.
Market expectations on H&M's fourth-quarter and 2011 profits have cooled after a third-quarter report that unveiled higher transport and raw material costs along with shrinking spare capacity and less favourable exchange rates.
Shares in H&M, which had until then benefitted from a global recovery as consumers returned to the shops, have shed nearly 15 percent from a record 261 Swedish crowns in September. Analysts expect gross margin pressure to dent earnings further in 2011.
"It has sounded as if H&M can imagine sacrificing part of the gross margin to maintain their low prices," said an analyst who declined to be identified.
H&M's gross margin, which has grown steadily since 2001 on an annual basis, is seen shrinking to 63.7 percent in the fiscal fourth quarter from 66.7 percent a year earlier, according to a Reuters poll of analysts.
"The key negatives for the gross margin include the time-lagged effect of a stronger dollar versus the euro, lowered retail prices and input cost inflation, particularly cotton," analysts at Societe Generale said in a research note.
Pressure on gross margins may however be temporary, they said: "Currency and input costs could ease or even reverse, looking forward to 2012."
Cotton prices CTH1 have rallied in recent months to reach record highs this week on concerns of supply issues.
Pretax profit at H&M in the last quarter of its December-January fiscal year is seen up 2 percent to 8.17 billion crowns ($1.25 billion). The report is due on Jan. 27.
BAD SHOPPING WEATHER
With quarterly turnover already indicated by the firm, focus will be on December sales growth, which H&M will post along with the quarterly report.
It is seen up a modest 1.3 percent in existing stores, as bad weather discouraged shoppers in H&M's biggest market Germany and other key Northern European countries. January sales, which the firm may also comment on, are seen better.
H&M usually reveals expansion plans for the coming year in its year-end report. The firm in the autumn scaled back its plans for new stores in 2009/10, pointing to halted shopping mall projects in southern Europe.
"The question is whether they can compensate for that, increase the pace, or if they will stay at a lower lever than normal," said another analyst who forecasts expansion this year towards the low end of H&M's target for 10-15 percent yearly.
Inditex, with flagship brand
Zara
, booked shiny third-quarter profits on Dec. 15, buoyed by developing market growth and new store openings.
The world No.1 clothing retailer, which like H&M speeds its own budget versions of catwalk designs to its stores worldwide, posts fiscal full-year earnings on March 23.

By Anna Ringstrom
(Additional reporting by Rebecka Roos; Editing by Jon Loades-Carter)
© Thomson Reuters 2023 All rights reserved.