Hong Kong's Esprit buys $500 million joint venture stake in China push
HONG KONG, Dec 17 (Reuters) - Hong Kong fashion retailer Esprit Holdings (0330.HK) is buying out its partner in a Chinese retail joint venture for HK$3.88 billion ($500 million) as part of a drive to expand in the world's third largest economy.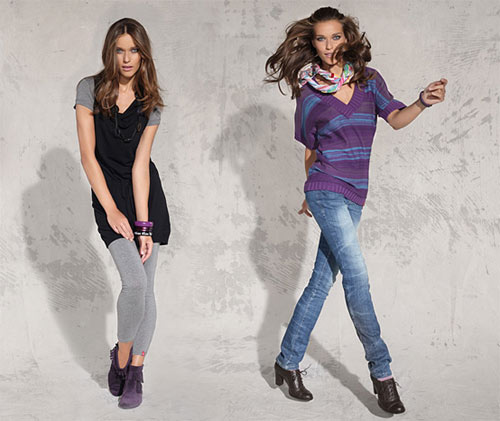 Esprit autumn-winter 2009/2010 - Photo: www.esprit.fr
The deal will see Esprit take full control of the 10-year-old venture, while China Resources Enterprise (0291.HK), which is selling the stake, will focus on its core businesses including food processing and distribution, supermarkets and beer production.
The Chinese conglomerate said it would record a HK$3.2 billion gain from sale of the stake.
"China Resources has been talking about the disposal of non-core assets for a long time, so the news itself is no surprise. The move (by Esprit) has been talked about for some time," said Peter Pak a vice president of BOCI Research.
"But maybe in terms of numbers, it was a surprise. People might have felt valuations are a little too expensive," Pak said.
Esprit, whose competitors include Hennes & Mauritz (HMb.ST) and GAP (GPS.N), has been hit by a weak wholesaling environment in Europe and lacklustre retail growth. The fashion group said China presented great strategic value and would be one of its most important growth engines.
Shares of China Resources rose nearly 3.5 percent to HK$28.80, the highest since May 2008, as it resumed trading following a half-day suspension. The stock later reversed course and fell 2.3 percent as of 0721 GMT, tracking a 1.7 percent drop in the broader market .HSI.
Esprit dived more than 7.7 percent to HK$46.10, its lowest since September 2009, before trimming losses to 1.6 percent.
Shares of China Resources Enterprise have more than doubled so far this year prior while Esprit shares have gained 16.6 percent, compared with a 50 percent rise in the Hang Seng Index .HSI as of Wednesday (16 December)'s close.
ESPRIT EYES CHINA EXPANSION
The world's No.7 fashion group by market value said earlier this month that it would cut the number of new stores planned for the current fiscal year to 50, from an earlier target of 60-80, as consumers were still very conservative.
Esprit said it aimed to open more stores in China.
The joint venture, Tactical Solutions Incorporated, has 1,112 outlets in 171 Chinese cities, comprising 345 self-operated stores and 767 franchise stores as of June 30, 2009. It distributes "Esprit" and "Red Earth" trademarks products in China.
"The transaction will further facilitate Esprit to continue its expansion in the PRC," Esprit said in the statement.
In November, China Resources Enterprise said it may consider spinning off of its beer and supermarket businesses but that no timetable had been set.
Beijing-backed China Resources operates supermarkets, processes meat, and produces its Snow-brand beer with SABMiller Plc (SAB.L) in the world's fastest growing major economy. It posted a 55 percent rise in profit to HK$1.04 billion ($143.2 million) for the July-September quarter as sales grew.
UBS (UBSN.VX) is the financial adviser for Esprit and Goldman Sachs (GS.N) is the adviser for China Resources Enterprise. ($1=HK$7.75) (Additional reporting by Sui-Lee Wee; Editing by Chris Lewis and Lincoln Feast)
© Thomson Reuters 2023 All rights reserved.