Insight: Oppenheimers consign diamonds to the past
JOHANNESBURG/LONDON - There is nothing intrinsically valuable about diamonds. The fact that we think of them as precious is mostly thanks to South Africa's Oppenheimer dynasty. It is they who, with a bit of help from an American advertising man, sprinkled the rocks with romance and convinced the world that diamonds are forever.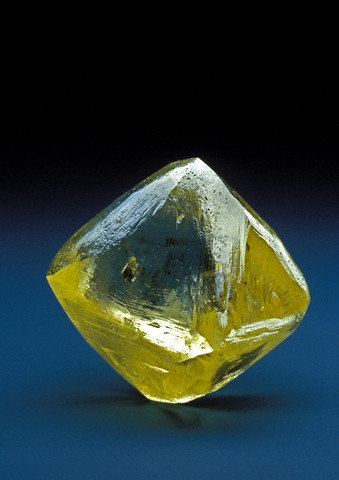 Oppenheimer diamond. An uncut, octahedral-shaped diamond from South Africa weighing 253.7 carats / Photo: Corbis
Which is exactly why the family's exit from the diamond industry is all the more surprising. Africa's second-richest family, after Nigerian food and cement tycoon Aliko Dangote, sold their 40 percent stake in De Beers to Anglo American this month for $5.1 billion.
The decision means the dynasty involved in South Africa's diamond industry for a century, is finally getting out of the business.
"It was an extraordinarily emotional and difficult thing for us. I think also difficult because the family have been in diamonds since my grandfather came to South Africa in 1902," current De Beers chairman Nicky Oppenheimer told Reuters.
But stung by the global financial crisis and wrestling with family discord over the direction their investments should take, the Oppenheimers have sold out to preserve their fortune.
The family insist they still take decisions as one and say they plan to invest "a large part" of the proceeds in Africa. One banker familiar with the matter said the family was already in talks to start another joint-venture private equity fund, similar to the $300 million fund set up with Singapore's Temasek Holdings in August.
The odds are good that a big chunk of the $5.1 billion will be reinvested in Africa. Over the past four years the family's investment arm E. Oppenheimer & Son has begun concentrating more on African investments outside the diamond industry -- healthcare, agriculture, media, retail -- at the instigation of heir-to-be Jonathan Oppenheimer. The family will maintain a stake of just under two percent in Anglo American as well as other investments such as a private equity business investing in mid-sized South African companies.
WEALTH UNDER PRESSURE

Headed by Nicky Oppenheimer, the clan is South Africa's equivalent of the Rockefellers. The family mansion in Johannesburg -- the gardens are open to the public and require the services of 45 gardeners -- has housed generation after generation since 1922.
Critics say the Oppenheimers benefited under apartheid but Harry Oppenheimer, who was De Beers' chairman for 27 years, was hated by many in the white political elite and ordinary Afrikaners, not least because he supported the creation of black trade unions, provided housing for black employees and encouraged education.
When former British Prime Minister Harold Macmillan made his "Winds of Change" speech in South Africa's whites-only parliament in 1960, drawing the wrath of the apartheid government, he was a guest at the Oppenheimer home.
The family had long rebuffed informal approaches from Anglo for its share of De Beers. But when Chairman John Parker tried again in September, he found Nicky Oppenheimer more receptive.
The shift is a reflection of several pressures on the family, not least turbulence in financial markets and recession clouds on the horizon. That worried some in the family -- particularly Nicky's sister Mary Slack, according to mining industry sources -- who had already seen the Oppenheimers' net worth tumble during the 2008 crisis.
The family had to pump millions into De Beers, which was forced to tap shareholders as diamond prices crashed. "They had to put $400 million in cash into De Beers, which they didn't have. And they had to borrow that money against their stake in Anglo American," said one source familiar with the family.
The family was in a bind. The stake in De Beers lost value and the family holdings outside De Beers were tied up largely in private equity, where exiting with a profit was years away.
This sparked some family members, led by Slack -- who has equal voting rights in the family -- to question the Oppenheimers' continued involvement in De Beers.
"She would have been observing this (financial crisis) and seeing their wealth really decimated. She was very uncomfortable with where everything was going," said the source.
Peter Major, mining analyst at Cadiz Corporate Solutions in Cape Town, said he believes Slack had considerable sway over the decision to exit De Beers.
"Mary's view must have been the deciding factor in selling De Beers to Anglos. Without a doubt. It would then have been quite easy for Nicky to make the decision once he saw how Mary weighed in."
Though diamonds have been among the best performing commodities this year, sales have been hit by the global slowdown and fears over the euro zone's debt crisis. There is no single marketplace for diamonds and pricing complex and opaque.
De Beers told investors in July that rough diamond prices increased by around 35 percent in the first six months of the year. The company has not disclosed exact price performance since then, but has said prices have plateaued in recent months.
De Beers sells the bulk of its gems on what are essentially long-term contracts, meaning it tends to feel market volatility less.
But other gem producers have seen steeper drops - small cap miner Firestone Diamonds said in mid-September that prices had fallen 15-20 percent from the start of August as demand softened.
For De Beers, having Anglo American as a major shareholder in the current global financial climate would be preferable, one source close to the group said.
"While one will miss the Oppenheimer involvement, there is a strengthening of shareholders. Anglo has been an amazing shareholder in the recession," that source said.
De Beers has been battling a pile of debt for much of the past decade. Net interest bearing debt was $3.2 billion at the end of 2009 and $1.76 billion at the end of 2010 compared to 2000 when it had a net cash position of $1.35 billion.
WHO TAKES OVER?
One of the most intriguing factors behind the decision to sell is the issue of succession planning -- tough for any family business and even more so for the Oppenheimer's multi-billion pound empire.
Nicky Oppenheimer's heir-elect is his 42-year-old only son Jonathan, educated at Christ Church, Oxford -- like his father and grandfather -- and a 20-year veteran of several De Beers departments.
"Jonathan will certainly lead this process," Oppenheimer senior said. "I am after all 66, while I am active and not retired, he is the man that is going to do the business."
But Nicky's choice, industry sources say, has not gone unchallenged, particularly after Anglo American turned Jonathan down for a board position after his father's departure and closed what is usually the route to the De Beers chairmanship.
Anglo has an effective veto over the chairman's position.
Jonathan, his critics say, is less well-liked than his father, while others question his ability to lead the firm.
One diamond industry source described Nicky Oppenheimer as "totally blind" to his son's shortcomings and said others in the family were unlikely to let him take the reins.
Nicky Oppenheimer declined to give details of the family discussions but said the sale was a decision taken unanimously and the family would continue to manage its wealth actively.
"No doubt everybody is around speculating about what went on or didn't go on. We as a family act together and Mary is extremely supportive of the process of finding new business to do," Oppenheimer said in an interview.
"None of us are the sort of people who think you should bury your talents in the ground."
Cadiz's Major said Jonathan is unlikely to feel as attached to the diamond industry as his forebears.
"Why should he have the same passion and vision and desire that they did? Let alone the connections and gravitas. Are Steve Job's and Bill Gates' kids dying to take over the reins of Apple and Microsoft? Hell no."
But the issue will be a key topic for the family to resolve over the coming months, as it waits for the Anglo acquisition to complete and the cash to land in family coffers.
"Clearly we have a bias toward Africa, we are based in South Africa so we will be looking for opportunities here. We are looking for opportunities in Botswana where we have good connections and then elsewhere in Africa," Oppenheimer said.
A banker close to the family said the Oppenheimers are in talks with an Africa-focused entity to set up another joint venture worth about $300 million.
"It's not about optics. Africa is growing at 6 percent per annum. It makes good economic sense," he said.
(Marius Bosch and David Dolan reported from Johannesburg, Clara Ferreira-Marques from London; Editing by Chris Wickham and Simon Robinson)
© Thomson Reuters 2023 All rights reserved.