Mango launches 'Think Up'
Mango has launched an innovative low-cost fashion concept. Called 'Think Up', the range of products will be pitched at a price that the Spanish label hopes will be unbeatable.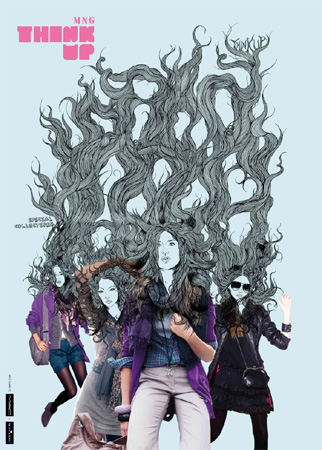 Think Up, the low-cost fashion concept from Mango
'Think Up' was unveiled in Mango boutiques on the 28th of August along with the slogan: "special prices for creative living". In addition to Mango's usual collections, 90 articles will be marked with a special label and be on sale at low prices, beginning at €9. Jeans, skirts, t-shirts, shirts, accessories… everything is included!
For Mango, this new low-cost fashion campaign is a response to the global economic climate. With 'Think Up' the brand wants to promote creativity, ingenuity and research into alternative paths within fashion.
To create a buzz, Mango has launched a blog at mangothinkup.com (available in English and Spanish), which presents the products as well as giving information on trends, allowing public participation through forums and offering good ideas for consumer savings. "The objective of 'Think Up' is to make ideas and propositions which show ingenuity public; we have to search, share and keep an optimistic outlook," declared the brand.

By Jonathan Fulwell (Source: C. Vautard)
Copyright © 2018 FashionNetwork.com All rights reserved.