Officials urge clothing companies to buy Haiti apparel
WASHINGTON (Reuters) - The top U.S. trade official urged clothing manufacturers and retailers on Tuesday 16 February to help rebuild Haiti by importing 1 percent of their apparel production from the earthquake-ravaged country.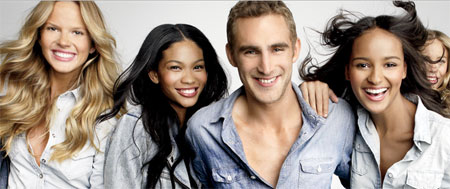 Photo: www.gap.com
"One percent may seem small, but it means new jobs and new opportunities for the Haitian people who so desperately need forward-looking solutions in the wake of January's devastating earthquake," U.S. Trade Representative Ron Kirk said in a statement.
Kirk and officials from
Gap
Inc,
Hanesbrands
and the U.S. Association of Importers of Textiles and Apparel announced the new initiative in Las Vegas at a fashion and apparel industry conference.
Companies representing more than $195 billion in U.S. consumer clothing sales were expected to attend the industry meeting, Kirk's office said.
"USA-ITA will work with our member companies who already source in Haiti, and will encourage our members who are new to Haiti to participate in the Plus One initiative," the group's president, Julia Hughes, said.
However, many details of the program still need to be worked out and the damage from the massive quake to Haiti's infrastructure and production facilities means "there's a long way to go before we can fully implement this," Hughes said.
Haiti's clothing sector accounted for about 75 percent of the country's exports and employed more than 25,000 Haitians before the January 12 earthquake, which killed more than 200,000 people.
U.S. trade officials hope a vigorous response to the Plus One program will encourage investors to get Haitian clothing factories back into operation as quickly as possible.
Rebuilding Haiti's apparel sector also provides an export market for millions of pounds of U.S. cotton-related products, said Jerry
Cook
, vice president for government and trade relations at Hanesbrands.
The company, which has provided over $2 million in aid for Haiti since the earthquake, has been in the country for years and hopes the new initiative "will encourage others to invest" in badly needed infrastructure projects, Cook said.
President Barack Obama's administration will support the program by working with U.S. and Haitian companies to remove roadblocks to Haitian apparel exports, Kirk said.
It also wants to work with key congressional committees on new trade legislation for Haiti, he said.
The Plus One initiative builds on Haiti's existing duty-free access to the United States under the HOPE (Hemispheric Opportunity through Partnership Encouragement) Act and other legislation. Some key provisions of those trade programs expire in September 2010 and December 2011.
Two U.S. senators have proposed legislation to extend Haiti's benefits and lawmakers in the House of Representatives have worked on the issue as well.
"To continue to grow Haitian apparel exports and help Haiti's economy for the long term, additional investment in and sourcing from Haiti is critical. And that is where the Plus One for Haiti program can make a difference," Kirk said.
(Reporting by Doug Palmer; Editing by Eric Beech)
© Thomson Reuters 2023 All rights reserved.