S.Koreans go mass-market, online for luxury goods
SEOUL - Sixty years ago, war-torn South Korea was one of the poorest countries in the world. Now it is the world's 13th largest economy and a magnet for luxury goods, prying open the wallets of its wealthy people as well as tourists.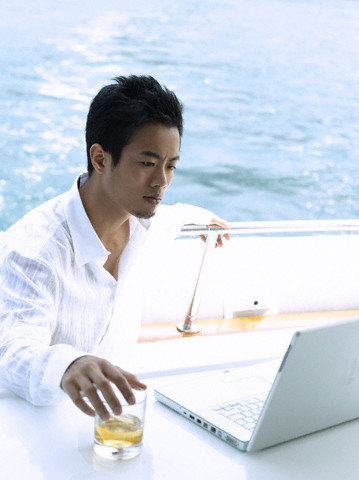 Photo: Corbis Images
Indeed, the country's appetite for high-end labels has led to the christening of a Louis Vuitton handbag as the "three-second bag" for its ubiquity, with one spotted every few seconds on the streets of the capital Seoul.
A survey from management consultants McKinsey & Co. shows South Koreans are less bashful than other Asians about flaunting their bling. Only 26 percent of those surveyed said they felt guilty about showing off luxury goods, compared with 49 percent of Japanese and 38 percent of Chinese respondents.
Now, the fashion conscious in this country of 50 million people will be able to shop for designer items alongside instant noodles at their local Seven-Eleven convenience store during the New Year's holiday season.
It is not the first time Seven-Eleven, whose familiar green and red facade is on every street corner, has offered luxury goods.
The chain stocked Gucci shoulder bags and wallets during South Korea's Thanksgiving festival in September and sold a third more than expected.
"It was a big success, and we are thinking of expanding our luxury gift line to other accessories for the New Year," said Seven-Eleven marketing official Cho Yun-jung.
Other mass-market outlets are also getting in the game. To meet demand, the local branch of British superstore Tesco Plc and homegrown discounter Lotte Mart, part of Lotte Shopping, are selling Chanel, Prada, Ferragamo and Balenciaga brands.
"Many of my friends received one or more Chanel bags as wedding gifts and seeing them carry one made me want to get one too," said Gina Ryu, a 31-year old restaurateur, who already owns Fendi and Vuitton totes and has put her name down for a Chanel model at Tesco's Homeplus.
Chanel's classic flap bags sell from 5 million won to almost 7 million won ($6,200) at local department stores and are frequently given to new brides by the groom's family.
The Chanel boutique in upmarket retailer Shinsegae's store in a ritzy part of southern Seoul sold goods worth 460 million won ($406,557) on its opening day last year, the second-biggest single-day store sales in South Korea's fashion retail history.
Homeplus caters to a segment of shoppers who are willing to overlook inconveniences such as long waiting periods and a limited range. The retailer gets its inventories from an intermediary who goes to Europe to re-stock.
"Our luxury operation is small, a minor player within a much larger luxury market and it is aimed at certain group of consumers," said Homeplus official Ku Do-yun.
Officials with Gucci, Feregamo and Louis Vuitton in Seoul all decline to comment on the sales at venues like Seven-Eleven. A LVMH spokeswoman in Paris also declined to comment.
$1,000 PER VISIT
Luxury goods sales in South Korea have been rising at least 12 percent annually to an estimated $4.5 billion in 2010, according to McKinsey. By contrast, China, with its 1.3 billion population, sold 80 billion yuan ($12.57 billion) during same year.
Part of that healthy growth is also fueled by a combination of cheap South Korean currency and a boom in its pop and drama culture that has swept Asia boosting demand from flocking foreign tourists.
Demographics also play a role.
"Korea has more working women, higher disposable income overall and the emergence of male luxury shoppers who are just opening their eyes," said Aimee Kim, a partner at McKinsey's Seoul office.
Major department stores like Lotte and Shinsegae have hired Chinese and Japanese translators and typical Chinese tourist spends around $1,000 in a visit to Shinsegae, mostly on designer goods and brand name cosmetics, according to South Korea's No.2 retailer.
"Chinese tourists are big-handed. Some of them come in, like what is displayed on mannequin and buy the whole outfit," said a sales person at Lotte Department Store, who asked not to be named since she was not authorized to speak to the media.
"Sometimes a Chinese tourist would come in with a travel trunk and fill it with purchases in one go," she added.
The prospect of more tourists from rapidly-growing Asian countries led Louis Vuitton to open its sole airport duty free outlet at Korea's Incheon international airport, a main gateway to Seoul.
Average daily sales are roughly 400 million won, or 10 percent of total daily sales at the airport duty-free shops.
Tourist numbers from mainland China rose 16.5 percent this year through October from a year ago, while Japan arrivals were up 5.6 percent, according to Korea Tourism Organization.
"South Korea is the right place for shopping given quality and prices compared to China. I'm willing to pay. I spent $1,200 for shopping here, though I somewhat feel guilty about it," said Guo Jun, a 53-year old banker from Henan province.
DEBT HANGOVERS
South Koreans are also expanding their luxury habits online and local banks are more than happy to accommodate them with special credit cards to fund the buying, raising concerns the country may see a repeat of the 2003 credit-fueled debt crisis.
During the so-called "Black Friday" weekend in November when Americans spent $7.4 billion more in stores than in 2010 on the same weekend, South Koreans flocked to online department stores and boutiques using U.S. addresses of friends and family.
"I got pretty good deals on Tory Burch shoes and tote at a U.S. online store," said 31-year old Jin Cho who works in publishing, referring to the U.S. designer brand with its iconic cross buckle. "I will have to tighten my belt when the bill arrives next month, but they were cheaper than at local stores."
Jin will not be alone waiting for that bill from a foreign shopping spree in a country where debt to income levels are more than those in the United States before the 2008 credit crisis.
South Korea's third-biggest bank by assets, Woori Bank , offers credit card rewards for a number of higher-end U.S. retailers like Shopbop.com as part of their membership reward program.
Hyundai Card, 31.5 percent owned by Hyundai Motor , offers "the Black" and "the Purple," with various luxury life style-friendly features.
The Black is an invitation-only card with an annual membership fee of 2 million won and perks that include gift vouchers for brands like Ermenegildo Zegna and Giorgio Armani.
"As long as you are spending without being overly excessive, I think (luxury shopping) is fine. It's a personal choice," said Hee-ran Kim, a 30-year old researcher at a government think-tank, who sets aside around 3 million won every year for luxury shopping.
($1 = 1,126.1000 Korean won)
($1 = 6.3642 Chinese yuan) (Additional reporting by Seongbin Kang; Editing by David Chance and Matt Driskill)
© Thomson Reuters 2023 All rights reserved.