Searle Blatt files for bankruptcy protection
Jan 12 (Reuters) - Searle Blatt & Co Ltd, which makes and sells women's ready-to-wear apparel, has filed for Chapter 11 bankruptcy in a New York court.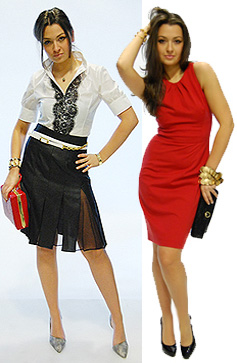 Searl Blatt & Co spring-summer 2009
It sought bankruptcy protection last week along with an affiliate, Tom Jones Inc, court documents show. The court has ordered both cases to be jointly administered.
The retailer operates seven stores in New York and employs about 98 people.
A year-long recession, declining home values and mounting job losses have made U.S. consumers reluctant to spend on discretionary purchases.
Retailers just saw their weakest holiday shopping season in decades and top names from Wal-Mart Stores (WMT.N) to Macy's Inc (M.N) have had to trim their profit outlooks and shutter stores.
Searle Blatt listed Eastern State Health & Welfare Fund as its largest unsecured creditor to which it owes about $220,000.
The filing also listed assets and liabilities in the range of $1 million to $10 million.
The consumer slowdown has also pushed many troubled retailers over the edge into bankruptcy. Searle, well-known among New Yorkers for its coats, follows other names including Circuit City Stores Inc, KB Toys and Goody's Family Clothing.
The case is in re: Searle Blatt & Co Ltd. U.S Bankruptcy Court for the Southern District of New York, No 09-10106 and No 09-10107. (Reporting by Santosh Nadgir in Bangalore; Editing by Deepak Kannan)
© Thomson Reuters 2022 All rights reserved.