U.S. retailers eye Canada for expansion
Target Corp's entry into Canada is not the first by a U.S. retailer.

Here are some details of the Canadian operations of some U.S. and global retailers: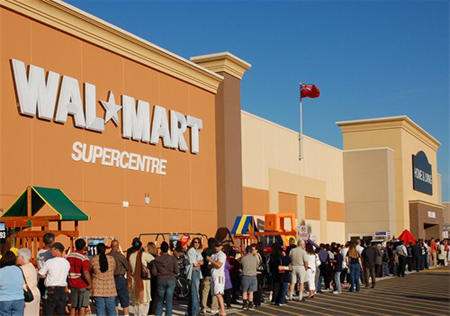 Wal-Mart Supercentre in Mississauga, Ontario
* 1989:
Gap
sets up shop.
* 1991:
Staples opens "The Business Depot" in Canada, where it has 311 stores, according to its website.
* 1994:
Wal-Mart
enters Canada. It has 323 stores in the country.
* 1994:
Home Depot enters market. It has 179 stores and 28,000 employees in Canada.
* 1995:
First
Banana Republic
store opens.
* 2001:
Best Buy enters the country with the acquisition of Future Shop in 2001.
* 2001:
First
Old Navy
store opens.
* 2002:
First Best Buy Canada stores open.
* 2004:
Hennes & Mauritz opens store in Toronto. It has 53 stores in the country.
* 2005:
Abercrombie & Fitch
opens its "
Hollister
" and "Abercrombie & Fitch" stores.
* 2007:
Lowe's enters Canada. The home improvement chain has 21 stores and 3,540 employees.
* 2011:
Target signs C$1.83 billion deal to buy leases of Hudson Bay Co-owned Zellers. It says it will run 100 to 150 stores under its own name in Canada by 2014.
(Compiled by Solarina Ho and S. John Tilak)
© Thomson Reuters 2023 All rights reserved.