US retailers face tough road to recovery in '10
By Martinne Geller -Analysis
NEW YORK (Reuters) - U.S. retailers made big strides in profitability during the 2009 holiday season even if consumers warmed up only slightly to spending, but the sector's key test in 2010 will be to keep margin growth up if shoppers retreat.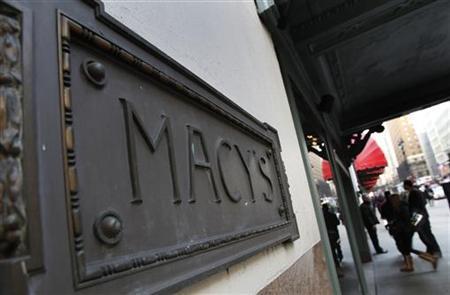 Last week, U.S. chain stores posted a larger-than-expected rise in same-store sales for December, the fourth straight gain after a year of monthly declines in the wake of the downturn. Chains such as Macy's Inc, Nordstrom Inc, TJX Cos and Aeropostale Inc increased their profit forecasts, as a strategy of lowering inventory levels in 2009 that helped them avoid deep discounts.
Industry experts say monthly sales data should continue to show improvement off year-ago declines for much of 2010, but that shoppers will not spend freely again until unemployment and home values recover. With no real bump in consumer demand, they see margin growth constrained by the fact that most stores already tightened their belts as much as they can.
"At some point your margins won't expand anymore, and if the top line doesn't pop back, you're probably going to be in a holding pattern," said Doug Conn, a managing director at investment bank Hexagon Securities.
"That's probably the big thing to watch for in 2010 -- if that does happen, and there is no top-line growth, we may see a little bit of flatlining," he added.
The National Retail Federation (NRF) is hosting its annual expo in New York this week, gathering thousands of retailers as well as vendors of services like staffing and consulting.
If attendance at the industry's biggest trade show were a proxy of its health, NRF spokesman Scott Krugman said things are looking up, with retailer attendance 27 percent higher than last year. Attendance overall, he said, is tracking at January 2008 levels.
"We feel they're doing this because they see a bounce-back is about to happen and it's about positioning themselves for that," Krugman said about the return to pre-recession levels. "It's going to be the year of the retail recovery ... a very fragile recovery."
But not everyone shares Krugman's optimism.
Eric Beder, an analyst at Brean Murray, Carret & Co, said retailers may have trouble growing their bottom lines in the first half of 2010, since they will begin cycling cost-cutting measures taken in the wake of the financial crisis -- from cutting inventories and marketing budgets to closing stores and laying off workers.
But the biggest impact may be seen mid-year, when year-over-year sales comparisons get more difficult, he said.
"The second half is going to be the true, true test here," Beder said.
2010: THE YEAR OF RETAIL RECOVERY?
Same-store sales, as tracked by Thomson Reuters Data, fell every month from September 2008 through August 2009, meaning that retailers should have relatively easy comparisons on this closely watched metric until September 2010.
With the exact timing of an economic recovery unclear, analysts are recommending stocks of retailers that are less dependent on a rebound -- such as those with room left to increase their store bases or margins, or those that offer special value or products.
Thomson Reuters director of consumer research Jharonne Martis said stores may see a near-term sales bump from holiday gift-card redemptions, but offered a tepid view on the year.
"It's going to be hard to keep up this momentum because the (high) unemployment rate continues to be the No. 1 hindrance to consumer spending," she said. "For the rest of 2010 I wouldn't be so optimistic; not until the unemployment number starts to heal."
RBC Capital Markets analyst Howard Tubin said the next few months may be particularly tough on clothing chains, as there is no compelling reason to shop between now and the end of March, when Easter and spring break arrive.
Furthermore, splurging on holiday gifts can limit people's ability to spend in the early spring, said Al Ferrara, a partner in BDO Seidman's retail and consumer product practice.
"The pre-Easter and Easter seasons are going to be very telling as to whether or not we really have a sustainable turnaround," Ferrara said.
Edward Jones analyst Matt Arnold said there are signs that consumers are a little more willing to spend, but he does not expect the type of broad-based retail rebound seen after prior downturns. Stores will have to battle harder for market share, rather than look for a rising tide to lift all boats.
STOCK PICKING AT LOW TIDE
For 2010, Barclays Capital analyst Jeff Black likes companies that rely less on revenue growth for earnings, such as those with room to cut costs, over companies already at peak margin levels. On Friday 8 January, he raised his rating on Limited Brands Inc and downgraded shares of TJX.
"The consumer has shown a definite willingness to come out and shop, although you still need some level of enticement in the form of markdowns," Black said.
RBC's Tubin sees success for retailers that either offer the best value or the most unique merchandise. His picks include Aeropostale for value and UGG boot maker Deckers Outdoor Corp for merchandise.
Meanwhile Oppenheimer analyst Robert Samuels recommends investors stick with turnaround names such as Foot Locker Inc or those with capacity to open more stores, such as Gymboree Corp.
Other good picks, according to Lazard Capital's Todd Slater, are names with international exposure that could benefit from the weak U.S. dollar, such as Wal-Mart Stores Inc and Warnaco Group Inc.
(Additional reporting by Brad Dorfman, Jessica Wohl and Ben Klayman in Chicago and Phil Wahba in New York; Editing by Michele Gershberg and Bernard Orr)
© Thomson Reuters 2023 All rights reserved.