Capsule asserts itself in Paris and arrives in Berlin
FashionMag : Capsule is constantly strengthening its status in the trade show industry, especially since its latest edition in Paris. Could you tell us about its creation?
Minya Quirk: It all started with our New-York based PR agency and showroom, BPMW. This "double-experience" allowed us to create our ideal trade show, as the other existing ones were too large in our opinion. The first edition of Capsule thus took place in New York in 2007. From the very beginning, we knew that we wanted to create a trade show with an international scope and within a democratic framework. The idea was for each brand to present its products on identical-looking stands, so that they could not stand out from each other in any way other than via the products themselves. Later we decided to launch an edition in Paris, then another in Las Vegas four seasons ago, and now this year we are going to Berlin.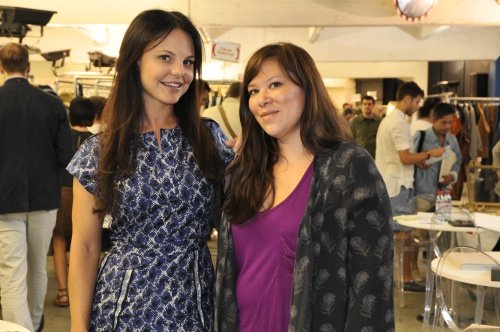 Deirdre Maloney (left) and Minya Quirk, founder of Capsule (Photo: OG)
FashionMag: Who are the exhibitors at Capsule and how does the selection process work? Do the same brands feature in all the editions?
Minya Quirk: Capsule fills a niche in the industry. In New York, we present 160 brands and reject any applications. Only a few brands are present in all of our trade shows. In Paris this season we have about forty more brands coming from all over the world, so we had to open an additional space in Garage Turenne (the event's venue) in order to accommodate them. The majority of brands are looking to manufacture locally or according to certain ethical guidelines. We also require them to have sufficient production capacities to meet the needs of buyers from big department stores or independent ones that come from all over Europe.
FashionMag: In just a few seasons you have managed to penetrate the Parisian market thanks to your strong position in the heritage trend, derived from the preppy style. How do you analyse the competition in Paris from other trade shows? And do you not fear that this trend may fade?
Minya Quirk: I have to admit that we do not really look at what other trade shows are doing. I have a feeling that our universes are very different. Our fair is set up in a way that brands can only worry about how to present their collections, and we do not try to attract exhibitors from other trade shows towards Capusle. In regards to the question about trends fading, I do not believe that to be a problem because, if they change, we are working with the very people who set the trends in the first place.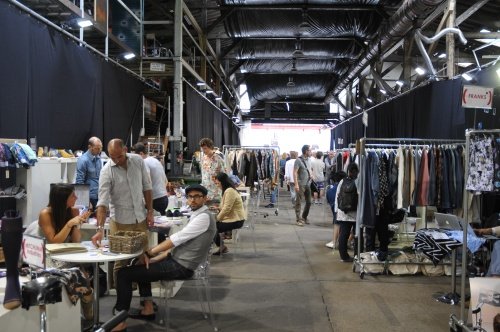 Capsule had to increase its surface area in order to accommodate forty extra brands in its latest Parisian fair (Photo: OG)
FashionMag: Capsle is arriving in Berling with a mixed trade shoz in July 7-8. Why did you choose to go to the German capital? Do you have any other expansion plans?
Minya Quirk: We were asked to establish ourselves in Belin. We work with a team from the Black Lodges Agency, which is a distributor in Hambourg for brands such as Clae, Gravis Footwear,
Edwin
Europe, etc. An old factory has been chosen as the location to host the 65 brands, some of which have exhibited with us many times before. For the time being we do not have any other projects nor a set plan for the future. As for the womenswear market, we do not feel that it offers us a lot of development potential.
Copyright © 2023 FashionNetwork.com All rights reserved.