Eyes on China: "Consumers are in an image race"
Former student of design in Melbourne, Tony Saint Hua is head of style at Misun. The women's fashion brand, which is also launching a men's line for summer 2013, is participating in its second Chic fair. The Chinese brand was launched in 2007 around the down jacket, before offering complete collections in 2011.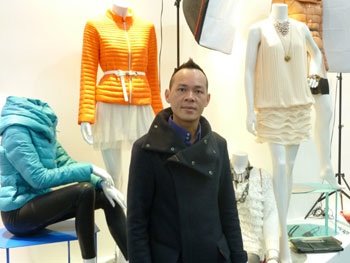 Tony Saint Hua
FashionMag: How would you describe the Chic fair ?
Tony Saint Hua
: With our Misun brand, this is the second time we're participating. Chic is very important for helping us find franchise partners. They come to see the concept more than the collection itself. We started in wholesale, but the money is with the network of franchisees. Only a small part of the visitors at the Chic fair are true potential franchisees. But we must attend to show our capabilities and even just for that it is enough.
FM: You do not believe in the development of independent retailers?
TSH
: Small distributors do not survive. In the world of multi-brands, only large chains survive.
FM: The fair is held only once a year. Is this enough?
TSH
: We find it ideal. Then we invite clients to private shows and order-taking sessions.
FM: How has the fashion market in China evolved?
TSH
: There have been big changes with the arrival of
Zara
,
H&M
etc. Before that, there was no real competition in this segment. These international brands took a share of the market and forced the Chinese brands to improve in style. They had to make it more minimalist and even learn about clothing construction. I arrived in China in 2007 and, for me, it was really 2009 which was the year during which the last changes took place.
FM: What about Chinese consumers?
TSH
: The whole country is much larger than Europe. There is money here. But above all consumers are spending it on fashion and competing in an image race. Image is everything. Even if you do not have money, you need to have an iPhone.
Copyright © 2023 FashionNetwork.com All rights reserved.