Facebook's advertising impact called into question
Only one out of five Internet users has made a purchase after viewing an ad or post on the social network. The survey conducted by Ipsos and Reuters polled 1,032 Internet users between May 31 to June 4 and points to the difficulties in generating revenues from the site's 900 million users.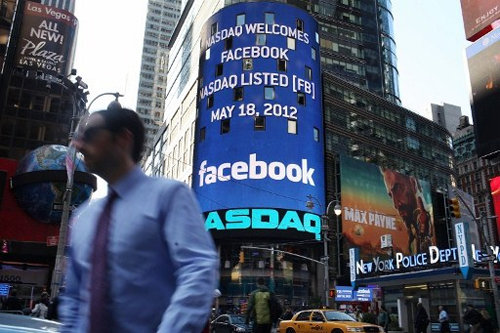 Photo Spencer Platt/Getty Images North America/AFP
The study was released shortly after the highly publicized but disappointing IPO of the social network. In the first few days, the stock lost 30% of its value, dragging down the company's valuation to 74 billion dollars, a drop of 30 billion.
Facebook responded to the publication of the study, emphasizing the advertising success stories on its platform, such as that of Nutella, which pumped up its sales by 15%. However, a few weeks ago General Motors announced that it would no longer be running paid advertisements on the network.
Another worrying sign for Facebook stems from fatigue and the diminishing novelty factor experienced by users of the site. Over six months, no fewer than 34% of consumers shortened the length of their visit on the social network.
The study also examines the profile of users currently active on the site. The most frequent visitors are between the ages of 18 and 34, 60% of whom visit the site daily. 29% of users over age 55 log onto their accounts every day, while 21% of those polled for the study do not currently have an account.
Copyright © 2023 FashionNetwork.com All rights reserved.