Forever 21 embarks on Europe
The easy-on-the-purse-strings American clothing brand is considering the move to four new European countries next year. The target markets are Belgium, Spain, Austria and "probably" France", said Larry Meyer, CFO at the Financial Times. A push appears on the Old Continent that follows the opening of its first European store in Birmingham, 5500 m wide which was soon joined by a second in Dublin.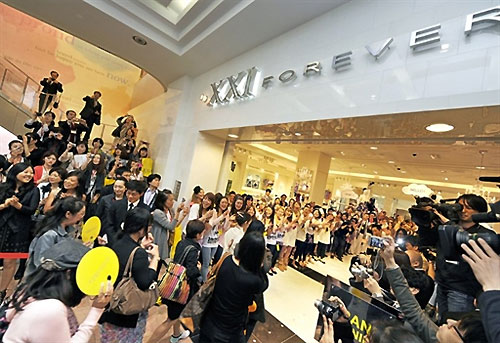 Forever 21 opens a concept store in Ginza (Tokyo) on April 29. Photo : Kazuhiro Nogi / AFP

The European development plan comes just months after a similar initiative on the Japanese market. The brand has in fact recently opened three concept stores in Tokyo, in the districts of Ginza, Harajuku and Shinjuku. This is a development that, like Europe, is designed to take over the ground of its competitors;
Topshop
, H & M and
Zara
.
For now,
Forever 21
is seeking a location for a London flagship, and prepares for the opening of a 2,900 and 4,400 sq metre concept stores in Brussels and Antwerp via the real estate firm
Cushman & Wakefield
, according to newspaper, La Libre Belgique. In parallel to all of continental Europe, the brand has extended its commercial site this past year in the United Kingdom, and for several seasons in the United States, Canada, Japan and South Korea.
Forever 21 is one of the few major American retailers that have weathered the crisis without too much damage, keeping the results at double-digit growth. The company should even reach 3 billion Euros in turnover this current year.
In the United States the brand currently has about 450 concept stores, with sizes ranging between 371 m² and 1800 m², of which the brand is enlarging. A distribution network that has strengthened over the summer with two new flagships: in the West, former Las Vegas
Macy's
, 11,000 m² (120,000 sq ft), and in the East, 8300 m² (90,000 sq ft) in Times Square, New York.
Original by Matthieu Guinebault. Translated by Rosie Hart
Copyright © 2023 FashionNetwork.com All rights reserved.