Geox surprise with a line of Empire State building shoes
"We are in a phase of redefinition of our style," said Mario Moretti Polegato, the president and founder of Geox, last summer when speaking at the opening of the brand's New York flagship. He was not lying, and the proof can be seen in this limited edition line, the Empire State Building special which has come as somewhat of a surprise.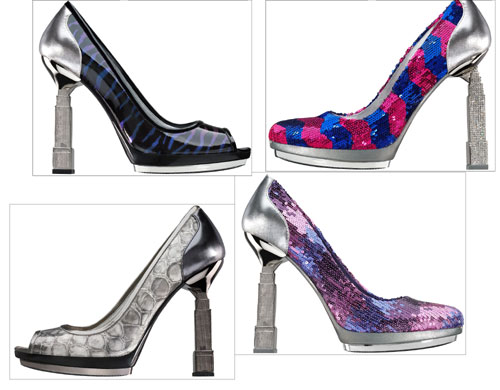 2009 Empire State Building collection by Geox
"The distinctive trait of the limited edition series is the 12cm heel which, with its height and Empire State Building design, celebrates the most famous skyscraper in the world," Geox stated.
This new range is a nod to the Big
Apple
then, but also above all it is a firm statement for the brand which had hitherto been known only for its breathable shoes rather than its look. Here, Geox is paying homage to New York and its history, "with its thousands of lights and illuminated skyscrapers which form an incomparable and perfect skyline."
High but discreet, the Christmas themed pair of shoes from this range also play with the theme of seduction with its bright red, sexy and vibrant colouring.
Although this range marks a new stylistic dynamic for Geox, it has not been developed to the detriment of that which brought the brand to the fore in the first place; the soles of all the shoes are made of ultra-light rubber which is both waterproof and breathable.
By Jonathan Fulwell (Source: Julie Mangaud)
Copyright © 2022 FashionNetwork.com All rights reserved.