H&M Q2 seen up as shoppers return to stores
STOCKHOLM, June 18 (Reuters) - Swedish fashion chain Hennes & Mauritz (H&M) (HMb.ST) is seen posting a jump in second-quarter earnings next week as consumers grow more confident about the global economy and return to stores.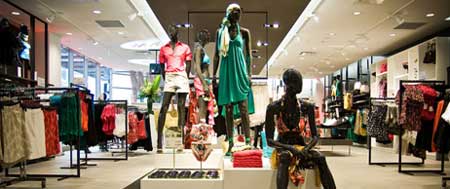 H & M
Following a stronger-than-expected first quarter result that boosted the clothing firm's share price, H&M's pretax profit for the March-May period was forecast up 22 percent to 7.08 billion Swedish crowns ($919 million) compared with the year earlier period.
"The expectations on this particular quarter are rather high", said Niklas Ekman, an analyst at Carnegie.
The world's third-biggest clothing retailer by sales has fared better than many others in the weaker global economy, thanks to its geographic spread and focus on high fashion at knock-down prices.
Even so, the company suffered through a withering 5 percent drop in same-store sales in the 2008-2009 fiscal year as the financial crisis ate into shopping budgets.
The market is now looking for proof that H&M has been able to reverse the trend and consolidate a positive sales trend.
"I believe the sales trend is the most important, since that was such a disappointment last year," Ekman said.
This fiscal year, growth signs have returned and H&M's same-store sales for the first quarter were positive.
"Looking at sales, we saw increasing consumer confidence in Q1 and I think this has continued in Q2," says Soren Lontoft Hansen, analyst at Sydbank. "But I think the May sales may be influenced by cooler weather in Europe."
Like-for-like May sales were forecast down 1 percent, while total sales for the month were seen up 9.4 percent, according to a Reuters poll.
"I think that May sales may be flat and in my opinion that will lead to a small increase in like-for-like sales in Q2 ... consumers are on their way back to stores," Lontoft Hansen said.
EXPECTATIONS
H&M's gross margin -- a key measure of profitability -- will also be closely watched by the market next week, having outpaced forecasts in the previous quarter.
"They should be able to post a very strong gross margin, but expectations are also very high," said Ekman.
The mean forecast for the gross margin was 65.1 percent, up from 61.0 percent in the corresponding quarter a year earlier and higher than the 61.9 percent posted in the first quarter.
The clothing giant recently announced plans to open its first store in Turkey as it presses ahead with expansion plans and further store openings are expected. Analysts also said they were looking for clues on sales development in June.
Rival Inditex (ITX.MC), the world's biggest clothing retailer by revenue and owner of fashion chain Zara, last week posted a forecast-beating three-month profit thanks to an upswing in demand. (Reporting by Katarina Gustafsson; Editing by Sharon Lindores)
© Thomson Reuters 2023 All rights reserved.