Hammerson banks on shopping malls in uncertain times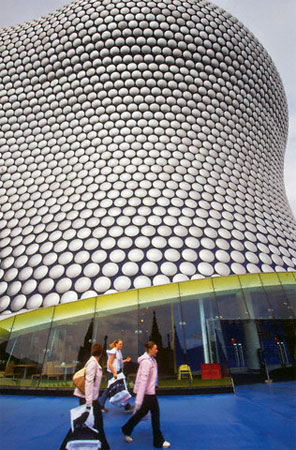 Bullring shopping centre, Birmingham, UK
LONDON, Aug 2 (Reuters) - Anglo-French real estate investor
Hammerson
(HMSO.L) is betting on its landmark shopping malls to underpin its rising portfolio value and income levels, as fears for a relapse in global property prices stalk the market.
The retail property specialist, which owns or co-owns some of Europe's most popular shopping centres like the Birmingham Bullring in central England and Italie 2 near Paris, said consumer confidence was flagging. But some retail tenants who had survived the global property slump were now thriving due to lower market rents and weaker competition.
"Although the retail environment remains challenging, trading at our regionally dominant shopping centres remains strong," Chief Executive David Atkins told a conference call.
"We've been able to grow our income streams... unlike the wider market which has seen declines in the last six months," he said, pointing to the arrival of a slew of new brands including U.S. fashion retailer
Forever 21
, which is shortly due to open its first UK store at the Bullring.
This lettings progress, particularly in the second quarter, boosted Hammerson's overall occupancy by 1 percentage point to 96 percent, compared with an industry average of 85 percent.
Reflecting the prime locations of its assets, the company also delivered like-for-like rental growth of 5 percent over the period, lifting net income to 140 million pounds ($219 million).
Hammerson shares were trading 2.3 percent higher at 397.5 pence by 1005 GMT, just ahead of a higher FTSE 100 Index .FTSE, as investors welcomed the 5.2 percent rise in the company's 5.35 billion pound portfolio.
"It's a benchmark beating portfolio revaluation and the combination of very strong contracted rental income and the reduction in gearing to 60 percent is a powerful platform for recovery," Nomura property analyst Mike Prew said.
CAUTIOUS OUTLOOK
Despite the solid results, Atkins said Hammerson was still concerned over the condition of its core UK and French real estate markets, which have been hit hard by flagging economies, euro zone credit worries and a shortage of debt.
The company posted its figures shortly after the International Monetary Fund (IMF) fanned fresh doubts about the strength of the global banking system in a report that suggested some banks needed more capital to cushion against further property value falls and commercial mortgage defaults.
Atkins said Hammerson, which booked a 7.8 percent rise in adjusted net asset value to 454 pence a share since December, would maintain a careful approach to new acquisitions.
"We have 600-700 million pounds of facilities available to us but I don't intend to put that to use with immediate action," he said.
Instead, Atkins said the company would continue to focus on selling mature assets and recycling proceeds into development to improve overall growth prospects.
Hammerson is seeking prelets for its 600,000 square foot Bishops Place City of London office scheme and nearby St. Alphage site, although Atkins said he did not expect any lettings announcements on either project in the near future.
"Although the outlook remains uncertain, our markets are recovering from recession and actions being taken especially in the UK to address structural economic issues will be, I believe, ultimately beneficial to us," he said.
(Editing by Chris Vellacott and Erica Billingham)
© Thomson Reuters 2023 All rights reserved.