Hermes CEO says family no plans to sell
By Astrid Wendlandt
PARIS (Reuters) - Members of the controlling family of French luxury goods group Hermes have no plans to sell shares and the house is confident it will weather the financial crisis, Chief Executive Patrick Thomas told Reuters.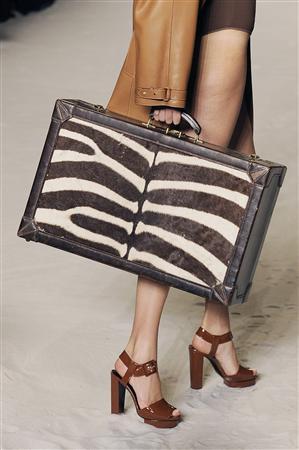 Speculation that family members, who together own 73 percent of the company, could sell all or part of their stakes keeps recurring even though Hermes consistently denies such plans.
"The family is selling nothing," Patrick Thomas said on Saturday during an interview on the fringes of Hermes 2009 spring/summer fashion show in Paris, designed by the enfant terrible of French fashion Jean-Paul Gaultier.
"The family is attached to the company, it considers it a jewel, it is not ready to sell, this is all speculation."
Expectations of a deal have kept Hermes share price high -- it has gained 30 percent since January in spite of the stockmarket meltdown -- and allowed the stock to trade on the highest valuation multiples of the European luxury sector.
At Friday's closing price of 112.14 euros, it has a market capitalization of 11.98 billion euros and trades on a 2009 price to expected earnings per share ratio of 36, which is roughly more than double the industry average.
It has a net debt of 502 million euros.
Thomas said he understood the current concerns about the financial crisis but said Hermes was well positioned to withstand strong winds.
"Of course one can be worried but we have confidence in ourselves because the house is very solid. It has cash, it is profitable, it has a lot of strength," he said.
Thomas added that Hermes was not planning to use the crisis to make big acquisitions and would stick to its strategy of making small, bolt-on acquisitions to strengthen existing activities. "We do not plan to make acquisitions, big ones I mean," Thomas said.
"We have a few targets in mind but the crisis will not change anything in that domain, crisis or no crisis we will not change our strategy."
PLEASED WITH GAULTIER
Thomas said he was very pleased with the work of Gaultier, who also has his own fashion house and has been designing women clothes for Hermes since 2003.
He heaped praise on Gaultier's "cowboy chic" collection, shown by super-models Naomi Campbell and Stephanie Seymour, saying it was "100 percent Hermes."
"It respects the values of Hermes which are elegance and discretion and I think there will be few women who do not find what they want," he said.
"It (the collection) is an invitation to travel both in our mind and in reality and ... forget the crisis."
Thomas said Hermes had strong ties with Gaultier as a designer but also as a shareholder, having recently increased its stake in his design house to 45 percent from 35 percent.
Hermes has first right of refusal if Gaultier wants to sell more shares. But Thomas added: "The boss of JP Gaultier is JP Gaultier. It will never be Hermes."
(Editing by Marcel Michelson and Richard Balmforth)
© Thomson Reuters 2022 All rights reserved.