Hermes gets extra shield from LVMH approach
Thu Sep 15, 2011 - Hermes won a major victory in its battle to torpedo a potential takeover by larger rival LVMH after a court cleared the French luxury group's plans to create a holding company that will lock in descendants of the founding family for 20 years.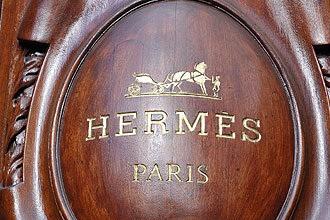 Photo AFP
Once Hermes creates the company, which will control more than 50.2 percent of its equity, LVMH -- which last year stealthily grabbed a 17 percent stake in Hermes -- will face daunting barriers to win control of the maker of 7,500-euro leather bags.
"The creation of this company (the family holding) in the next few weeks will durably strengthen the independence of the Hermes group," Hermes family shareholders said in a statement.
Officially, LVMH says it does not plan to make an offer for Hermes but it has been steadily raising its stake to 22 percent from 17 percent in October and has made no secret of the fact it wanted to buy more shares.
Speculation that LVMH was preparing a bid has propelled Hermes' share price to stratospheric heights, valuing it at more than 50 times the company's expected earnings for this year.
The stock, which was suspended pending Thursday's ruling, has gained nearly 70 percent since Jan.1 in a downward market.
"This will remove a good part of the speculative appeal of the stock," a Paris-based trader said.
"Hedge funds who had expected some big M&A action here will lose interest, and the stock might start to trade again according to the company's fundamentals," the trader added.
Analysts estimate Hermes's free float to be less than 5 percent.
Earlier this year, French market watchdog AMF granted Hermes an exemption from having to buy out minority investors if it created its controlling family holding.
The exemption was later attacked by French minority shareholders' association
Adam
, which lodged a complaint with the court of appeal in Paris. But the court on Wednesday upheld the AMF's decision.
"I am disappointed," said
Colette
Neuville, chairman of Adam. "This decision will weigh on the rights of minority investors."
Hermes, which sees LVMH's entry into its share capital as hostile, plans to create the family holding before the end of the year, its lawyer said, even if Adam tries to appeal the decision.
Even if Adam brings the case to France's supreme court, the procedure may not prevent the creation of the holding company.
The new entity will regroup more than 100 Hermes family shareholders and associates. In addition to shares totalling 50.2 percent of equity, it will have first right of refusal on shares representing another 12.6 percent of capital.
Only one third of the holding's members will be able to sell their shares as of 2031.
"This shows the extent to which the family (of Hermes) are not sellers, whether it is in the short-term, the medium-term or the long-term," Olivier Diaz, Hermes' lawyer said.
Family investors holding about 10 percent of the company, including Nicolas Puech, Hermes' biggest shareholder with 6 percent and the brother of Hermes Chairman Bertrand Puech, did not take part in the family holding.
Analysts said the holding gave a boost to Hermes' defence against LVMH.
"It will reduce the temptation among shareholders to sell (to LVMH)," one London-based luxury analyst said. "The holding blocks things much more."
LVMH, the group behind
Louis Vuitton
handbags,
Celine
suits and Moet & Chandon champagne, declined to comment on Wednesday.
Trading in Hermes shares is due to resume on Friday.
LVMH shares, which have lost 7 percent since Jan.1, were up 2.3 percent at 114.35 euros by 1120 GMT, valuing the group at 58 billion euros.
Hermes shares closed up 3.6 percent on Wednesday at 269 euros, valuing the luxury company at nearly 28 billion euros.
Hermes is now worth more than twice French bank Societe Generale and nearly three times retailer
Carrefour
.
By Astrid Wendlandt

(Additional reporting by Blaise Robinson and Pascale Denis; Editing by James Regan and Helen Massy-Beresford)
© Thomson Reuters 2023 All rights reserved.