John Lewis sales fall as shoppers feel pinch
Jan 28 - British department store chain John Lewis suffered a decline in sales last week, adding to evidence that an increase in VAT sales tax has further weakened already fragile UK consumer spending.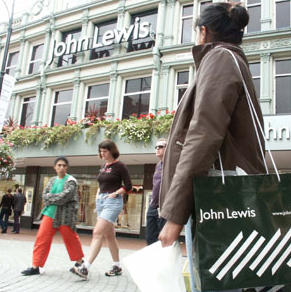 John Lewis in Reading, UK
The employee-owned retailer, which also runs upmarket grocery chain Waitrose, said on Friday department store sales fell 2.2 percent to 50.1 million pounds ($79.7 million) in the week to Jan. 22.
Sales in the previous two weeks had increased 4.1 percent and 38.7 percent respectively.
"It was a quieter week for John Lewis but the comparisons against last year are difficult to read due to periods of heavy snowfall in the first week of January last year and the resulting uplift in trade over the following two weeks," the retailer said.
It said taking the week ending Jan. 15 and the week ending Jan. 22 together provides a more realistic comparison with last year, and this gave an overall increase of 1 percent.
The John Lewis data was published as a survey said British consumer confidence tumbled to its lowest in almost two years in January.
"The slowdown in John Lewis sales is particularly notable as the company has been clearly out-performing the retail sector as a whole," said IHS Global
Insight
economist Howard Archer.
"The John Lewis figures suggest that consumers are becoming increasingly less prepared, or less able, to spend as higher inflation (fueled by January's VAT hike from 17.5 percent to 20.0 percent) and muted earnings growth squeezes their purchasing power."
Analysts are wary about retailers' prospects in 2011, particularly after much weaker than expected economic growth data on Tuesday.
By James Davey
© Thomson Reuters 2022 All rights reserved.