John Lewis sales jump lifts retailers, UK Xmas hopes
LONDON - John Lewis, Britain's biggest department store chain, said its sales have soared over the last four days, boosting UK retailers' hopes of a late rush of Christmas shoppers.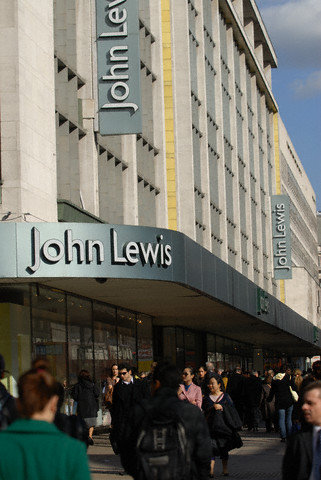 John Lewis on Oxford Street, Photo: Corbis Images
The employee-owned retailer said on Thursday its sales jumped 20.7 percent year-on-year in the four days to Dec. 21, albeit against a period last year when the nation was disrupted by heavy snow falls.
"In-store sales have benefited from the festive atmosphere created by partners (employees), while online sales soared in the run up to the cut off deadline for delivery yesterday, albeit when compared with snowy conditions last year," David Barford, director selling operations at John Lewis said.
The 20.7 percent figure is, however, a gross number, inclusive of VAT sales tax and new space.
Analysts estimate the underlying figure to be about 13.7 percent, excluding VAT and new space.
"Given that John Lewis is often seen as a bellwether for the state of the high street, the marked increase in sales provides genuine hope for retailers that many consumers have left much of their Christmas shopping very late - probably in the hope that struggling retailers will step up their promotions and discounting," said IHS Global Insight chief economist Howard Archer.
On Sunday John Lewis reported gross sales for the week to Dec. 17 up 10.6 percent to 133.1 million pounds ($208.49 million), the highest weekly level in the company's history.
With Britons' disposable incomes being squeezed by rising prices, muted wages growth and government austerity measures, confidence is at a 34-month low and most retailers are nervous about spending in the key Christmas period. Discounting is rife.
John Lewis has, however, been outperforming rivals for over a year. It will make its next trading update on Jan. 4.
The John Lewis figures were published as data showed overall UK shopper numbers so far this week slightly lower than the weak snow-affected period last year.
Data released by Experian FootFall said Monday to Wednesday shopper numbers were down 0.04 percent compared with the same three days last year.
"This is a relatively poor performance given the severe snow which hampered pre-Christmas shopping patterns during the same period last year. However, this is the final shopping week before Christmas and of the six shopping days this week, there are still three days to go," Experian FootFall said.
Meanwhile, a report from the KPMG/Synovate Retail Think Tank said the new year will fail to bring a rosier outlook for the UK's struggling retailers.
It reckons consumer confidence will remain depressed, expects sales volumes to continue to fall, and anticipates a number of high-profile administrations in the early part of the year.
"Even the London Olympics, the Queen's Diamond Jubilee celebrations and a falling inflation rate are unlikely to provide much respite for those hardest hit," it said. (Reporting by James Davey; Editing by Kate Holton and Erica Billingham)
© Thomson Reuters 2023 All rights reserved.