John Lewis sales rise for fourth week
LONDON (Reuters) - John Lewis, the employee-owned group seen as a barometer of UK retailing, posted a fourth consecutive week of rising department store sales but said the increase was flattered by weak numbers last year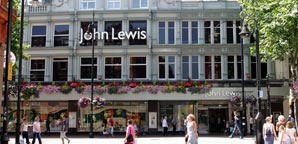 John Lewis in Reading, Berkshire
The firm said on Friday 16 October sales at its 28 department stores increased 13.3 percent to 55.4 million pounds in the week to October 10.
That followed rises of 6.3 percent, 4.7 percent and 6.6 percent in the preceding three weeks, respectively.
"We need to maintain balance and perspective; we are up against soft figures from the height of last year's finance sector turmoil and also have the added contribution of our stunning new shop in Cardiff," said John Lewis.
"That said, we also managed a modest uplift in the two-year comparison and many branches and most merchandise categories had double-digit increases year-on-year."
The firm said fashion sales increased 17.8 percent, electricals and home technology was up 13.2 percent and sales in the home category rose 11.5 percent.
John Lewis also owns the 218-store Waitrose supermarket chain. Its sales increased 14.8 percent to 84.7 million pounds, underscoring its current position as the UK's fastest growing grocer.
"Given that John Lewis sales are seen as a good bellwether for the state of consumer spending, the latest sales figures boost hopes that retail sales picked up in September and started October well after losing momentum in August, when they were only flat month-on-month," said Howard Archer, economist at IHS Global Insight.
The upside for consumer spending, however, is likely to be limited for some time to come, given rising unemployment, low earnings growth and heightened debt levels, he said.
(Reporting by James Davey; editing by Simon Jessop)
© Thomson Reuters 2022 All rights reserved.