John Lewis sales set fire by the rain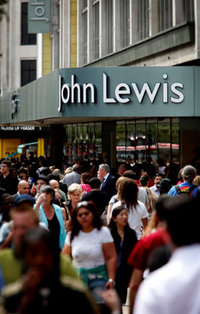 Photo: John Lewis
LONDON - Britain's biggest department store chain
John Lewis
posted stellar sales growth last week as torrential rain and low temperatures were highly favorable for its key household goods business.
The employee-owned retailer said on Friday its sales jumped 32.4 percent year-on-year to 64.5 million pounds ($105 million) in the week to April 28, also boosted by robust TV sales related to the digital switch-over in London.
The outcome was, however, flattered by a soft comparative week last year when sales fell 9.2 percent hindered by a Royal Wedding and the fall of Easter Sunday, by the fact the firm has five more shops than a year ago and by higher prices because of inflation.
Homewares sales increased 25 percent, benefiting from a strong performance from big-ticket items - beds and bedroom furniture, floor coverings and upholstery.
Sales in the electricals and home technology category jumped 62.6 percent, while fashion sales were up 18.6 percent.
John Lewis has been outperforming the wider market as its generally more affluent customers have been less impacted by the economic downturn.
"Even allowing for a number of factors boosting the year-on-year growth rate, this is another very impressive sales performance from John Lewis that defies the UK apparently being back in recession," said Howard Archer, chief economist IHS Global
Insight
.
"The caveat is that while John Lewis has often been seen as a bellwether for the state of consumer spending, the fact is that it has been very much an out-performer in recent times."
Many UK retailers are struggling as shoppers grapple with higher prices, muted wage growth and government austerity measures, and worry about job security, shaky housing markets and fallout from the euro zone debt crisis.
Data last week showed Britain is back in recession, prompting fears of a fresh fall in consumer confidence, while high oil prices have raised doubts about whether inflation will continue to fall back from last year's highs.
John Lewis also owns upmarket supermarket chain Waitrose. Here week to April 28 sales rose 10.7 percent to 109.1 million pounds.
"Sales of tights were up by 80 percent, hot drinks by 62 percent and umbrellas by a massive 5,000 percent compared to last year - demonstrating the stark contrast with the weather at this time last year," said marketing director Rupert Thomas.
© Thomson Reuters 2023 All rights reserved.