John Lewis weekly sales drop 11.6 percent
LONDON (Reuters) - John Lewis, the employee-owned group seen as a barometer of retail spending, reported a plunge in weekly sales at its department stores Friday 24 April, hit by warm weather and the timing of Easter.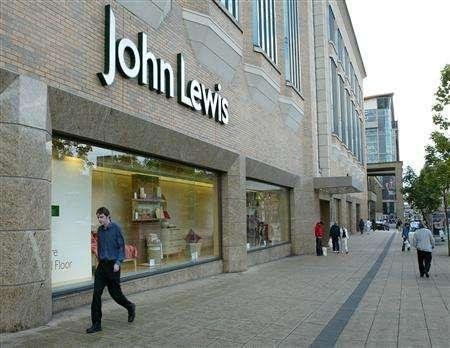 The group said sales fell 11.6 percent on the same week last year to 43.18 million pounds.
"The outcome for the week was as we expected. With one trading day less than last year, and two glorious spring days across the country on Easter Monday and last Saturday, we fell well short of last year," it said in a statement.
Sales of home-related goods tumbled 20.8 percent, electricals and technology products were down 8 percent and fashion down 4.4 percent.
The fall took the decline in John Lewis's department store sales so far this year to 6.6 percent -- "clearly very challenging, but somewhat better than we predicted," the company said.
The figures may dampen recent optimism that consumer spending in Britain is starting to stabilise.
Tesco, Britain's biggest retailer, said Tuesday it was seeing signs of stability in some of its markets, while mobile phone and telecoms group Carphone Warehouse said Wednesday it was more positive about the trading outlook.
"The markedly weaker underlying trend is clear," said IHS Global Insight economist Howard Archer of the John Lewis data.
"Consumers are coming under ever increasing pressure from soaring unemployment and markedly slowing wage growth," he said, adding this would more than offset the benefits from lower interest rates and energy costs.
John Lewis said weekly sales at its upmarket Waitrose grocery stores fell 8.1 percent to 71.28 million pounds.
Group sales were down 9.5 percent.
(Reporting by Mark Potter; Editing by Hans Peters)
© Thomson Reuters 2022 All rights reserved.