Next raises profit guidance
By James Davey
LONDON (Reuters) - Fashion retailer Next (NXT.L) raised its profit guidance on Tuesday 21 July after clothing sales were boosted by good weather in early summer.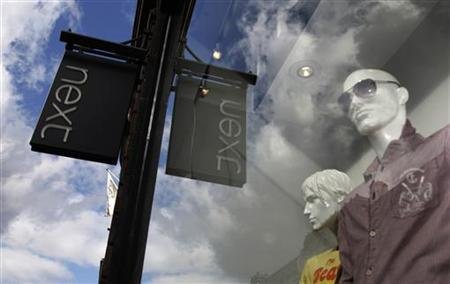 "As a result of better full price Next Retail sales and improved clearance rates, we have added a further 15 million pounds to our internal profit forecast for the first half," the firm said in a trading update brought forward a week.
Next said product negotiations and sourcing had also gone better than planned, leading it to anticipate that its bought-in gross margin for the second-half would be better than expected.
"As a result we have also added 15 million pounds to our internal profit forecast for the second half." Next said like-for-like sales in 394 stores that traded continuously in the 25 weeks to July 18 were down 1.9 percent, comfortably beating guidance the firm gave on May 6 for a fall of between 4 and 7 percent in first-half like-for-like sales.
"We estimate that the warm temperatures have improved these Next Retail sales by between 2 percent and 3 percent," it said.
"In addition, we have been much happier with the design and fashion content of our ranges across all product areas."
Next Directory sales were up 1.1 percent, while total sales for the Next brand were up 1.3 percent.
For the second half, the group forecast that Next Retail's like-for-like sales would be down between 3.5 and 6.5 percent as it expected consumers to continue to moderate their spending, given an expectation that unemployment will continue to rise.
Shares in Next, which have risen by 70 percent over the last year, closed on Monday 20 July at 1,648 pence, valuing the business at 3.25 billion pounds.
(Reporting by James Davey, editing by Myles Neligan/Will Waterman)
© Thomson Reuters 2021 All rights reserved.