Victoria Beckham turns designer hand to cars
British fashion designer Victoria Beckham had her soccer-superstar husband "David in mind" when helping create a new special edition of Range Rover's off-road vehicle, the "Evoque".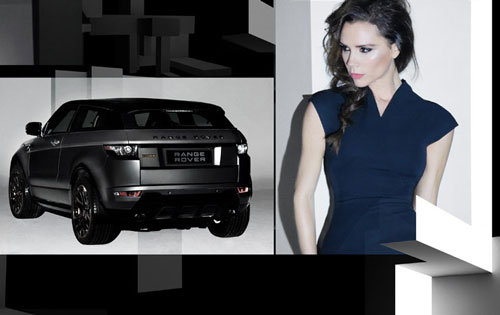 Promotional shots of the special edition Evoque, along with designer Victoria Beckham / Photo: Landrover
"I've stayed very true to myself. I've designed a car that I want to drive, a car that I think David wants to drive," the former Spice Girl told Reuters in an interview in Beijing, where she was promoting the vehicle, late on Sunday.
"I think that though women will drive this car, it has a masculine edge. I think it's very cool," she added.
Beckham, who admitted she had never done a project like this before, said she had learned "an enormous amount."
"And the bottom line is, would I drive this car, like when I'm designing a dress, would I wear this dress? I love what I do. I consider myself so blessed to do a job that I love and this has been a great experience for me," said Beckham, wearing a sleeveless striped dress from her own collection.
She said she searched for inspiration in many places.
"I did a lot of research and not just with cars, old and new, but boats, planes, movie stars, different locations," she said.
"It would be hard to pinpoint exactly where the inspiration came from. It's just what I like, that's the bottom line. I don't try to be too technical about it ... It's what feels real to me."
The special edition "Evoque" features exclusive, hand-finished matt paint, the first for a Land Rover-type vehicle.
The vehicle also has rose gold accents on the grille and gloss black forged alloy wheels. Inside, the four-seat coupe includes vintage-inspired leather seats, rose gold-plated accents and features trimmings of black lacquer, textured aluminum and mohair.
In addition, the vehicle has bespoke luxury accessories, such as a four-piece leather luggage set and a hand-sewn leather wallet for the owner's manual signed by (Victoria) Beckham.
The special edition "Evoque" costs 80,000 pounds ($129,000), twice the cost of a regular model. Only 200 will be made, the first of which will be rolled out in China as early as October.
Beckham has begun to make a name for herself as a designer, and in 2011 picked up a British Fashion Award.
Still, the singer-turned-designer said she "doesn't want to run, before she can walk" with her collection.
"I mean, each season, I add more retail partners to my list of retailers but because it's important for me, as a brand, to keep things quite small. I want my customer to feel quite special when she finds one of my dresses or handbags. I don't want it to get too big too quickly."
© Thomson Reuters 2023 All rights reserved.