Who's Next-Pap Paris: Xavier Clergerie talks numbers
Who's Next has just released its final figures. Beyond even the only leading trade fair, its attendance numbers for foreign visitors shows the influence of the location of Paris on the mid-range designer market (at the doorstep of couture and designers). It also underscores the interest of French retailers in the event. Thus, it is worthwhile to analyze the numbers – and to take note of what Xavier Clergerie has to say.

First lesson – which the WSN Développement team places at the top of the results – the number of French visitors is down 8.7% to 30,146, representing 64% of overall attendance. The organizers view this as a negative impact of the simultaneous start of summer sales in France and the fair dates. There was a 21% drop in Who's Next attendance for buyers from the French provinces, or 14,588 visitors. Visitors from Paris and the surrounding area actually increased by 7.6%, to 15,558 visitors.


Fame area (photo Pixel Formula)
For Xavier Clergerie, co-director of show organizer WSN Développement , the gamble to change the date has not necessarily won over France, even though most French buyers do not want to return to September. "The decline of French visitors is one of the difficulties of Mr. Brown, which is mainly focused on French retailers with exhibitors who are mainly agents," said Clergerie. But he does not think such results cast doubt on the selected dates and says that the previous week was too soon in any case. His hope? That the new government works with the industry to move the summer sale dates. Moreover, he voices the common consensus that retailers are overstocked in men's wear, and are thus being careful. "I'm sure they will come in greater numbers in January," he says.
Regarding international visitors, Europe excluding France decreased by 2.1% visitors. "Only" 2.1% say the organizers. And that is understandable. The economic crisis buffeting the old world continent is reflected in the drop of Italian visitors (-19.6%) and Spanish buyers (-7.7%). The Pitti Uomo in Florence even reported a net decline of Italian visitors.
Other European countries increased in attendance, albeit with smaller numbers. Belgium brought in 4.9% more visitors, almost 1,600 people, Britain was up 6.6% (834 visitors), Germany jumped 34.8% (620 visitors) and Holland rose 13.2% (602 visitors). Turkey showed the most gains at 68.4%, reaching 714 visitors. Europe excluding France still represents almost 68% of international attendance.
Asia, the continent with most sought-after buyers, recorded an increase 52.8%, or 2,760 attendees, representing 16.3% of foreign visitors. The lead was held by Japan (typical for Paris but not necessarily Who's Next), with 88.6% growth in visitor numbers, to 1,682 attendees. According to WSN Développement, Chinese customers also responded positively with nearly 21% growth in attendance, to 566 buyers. Korea, however, declined by 5.8% with what could be called a mere 162 visitors.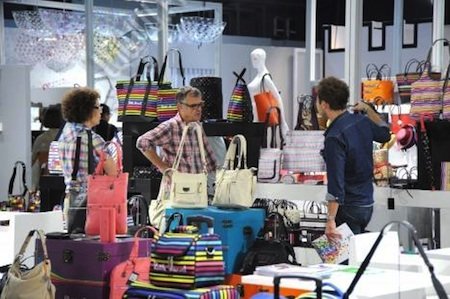 The Cube (photo Pixel Formula)
There were 45% buyers hailing from the Americas, representing 7.9% of international visitors. In the lead was the U.S., with a growth of 54.7% and 464 buyers. WSN notes that Americans are very present in Paris during men's fashion week, which coincided with the date change for Who's Next Prêt-à-porter Paris.
The Middle East recorded an increase of 1.8% of visitors, limited to a base of 574 people. Africa brought in 532 guests, or a 3.5% improvement.
For Xavier Clergerie, the increasing number of foreigners from outside Europe is very positive and reinforces his desire to reach 50% international visitors in two years, which was announced as an objective following WSN's takeover of Prêt-à-Porter Paris.
The co-founder of WSN Développement also notes that almost everyone was satisfied with the atmosphere and layout.
In an effort to convince the public about the show's choices, WSN Développement published attendance figures together with a number of visitor and exhibitor testimonials, some of which were not necessarily favorable, but were also in line with our own observations.
Examples:
Patrick Aboukrat, Parisian retailer of the Abou d'Abi Bazar shops: "Until the evening before the show, I did not know if I could come. But once my team was in place and after a good first day of sales, I finally decided and I attended the four days. I do not regret it given the number of brands I discovered."
Amber Marazzi, director of Amber Babzoe (in the
Fame
area): "Foreigners played along. As for French buyers, it's something one has to get used to. I did not expect attendance to be so high with the date change."
Celia Dot, sales manager of the German brand Annette Görtz: "We signed on new clients, French, Italian, Japanese and Chinese. We exhibit in France to get these clients."
Gerard Henneuse for the Gas brand, exhibiting in Mr. Brown: "Obviously September is too late compared to other European fairs and to retailer buying patterns. Unfortunately, this date at the same time as the summer sales did not bring us enough customers. I personally did not like Hall 7.3. We would have been better in 7.1."
Didier Marder, director of Emmanuelle Khanh Paris, exhibiting at
Première Classe
: "Even though there were less visitors than the other sessions, it was much better quality and more international. These new dates are also beneficial because we have more time for production between the two sessions."
Copyright © 2023 FashionNetwork.com All rights reserved.