Wolford reports promising results thanks to own-store sales
After recently publishing promising results in its latest annual report, Wolford remains optimistic and predicts another growth for fiscal 2011/2012, which began on May 1st. "The first eleven weeks look positive", commented Holger Dahmen, CEO of the Austrian maker and seller of upscale hosiery and lingerie.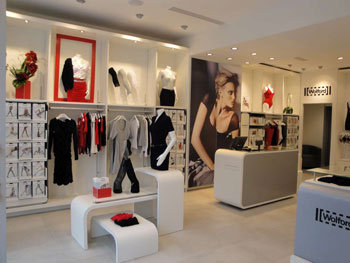 Wolford
Over the course of its last fical year, ended on April 30th, Wolford saw its earnings before interest and taxes (EBIT) jump nearly 63% to more than 73 million euros. These results can be attributed to better cost management and an increase in sales. The latter went up by 5.6% to 152 million euros, of which 57% were made from sales of hosiery products and 32% from ready-to-wear pieces. Only 3 markets showed a decrease in sales, including France which counts for 11.6% of the total and is the group's 4th largest market, as well as Austria (3rd market) and the Netherlands. "The decrease in France is not significant. It was only -0.6%", said the president. As for the Germany and the United States, both of which are almost ranked equally at first place, sales grew by 1.6% and nearly 11% respectively.
On the whole, Wolford made good use of the development strategy of its monobrand network. This way, for the first time, its 106 branches, 30 concessions and 25 outlets were able to account for more than half of its total activity. Retail sales increased by more than 13%, and over 6% on a like-for-like basis. Franchise sales also grew, this time by 5.4%. Sales made via distributors, on the other hand, fell 1.9%. "We do not want to be exclusively sold at our own stores. Our plan is to divide our sales between 70% retail and 30% wholesale", concluded Holger Dahmen. He did not give out any sales forecast for the fiscal year ahead.
Copyright © 2023 FashionNetwork.com All rights reserved.